I love a good scrap yarn project, don't you? Often times after finishing a project, I have a partial ball of yarn left, and I hate throwing them out! So I keep them saved on a shelf in my office, just waiting to be used. I was admiring some scraps of tweed yarn I had left over from a blanket, and wondering what to do with them when inspiration hit. A tunisian crochet cowl! I've never made a scrappy tunisian project – but I knew it would lend itself well to using up the bits and pieces of yarn I wanted to use.
Tunisian Crochet is such a fun alternative to regular crochet. With a bit of practice, you can use lots of different techniques to create unique looks, and in this cowl I implemented one of those. The color changes are worked on the return pass, which creates a sort of woven look and adds an extra level of depth to the design.
Yarn
For my sample, I used scraps of City Tweed DK from WeCrochet. This yarn is a cozy mix of 55% Merino wool, 25% Superfine alpaca, and 20% Donegal tweed. I chose four colors I had, and just randomly switched colors as I felt like it.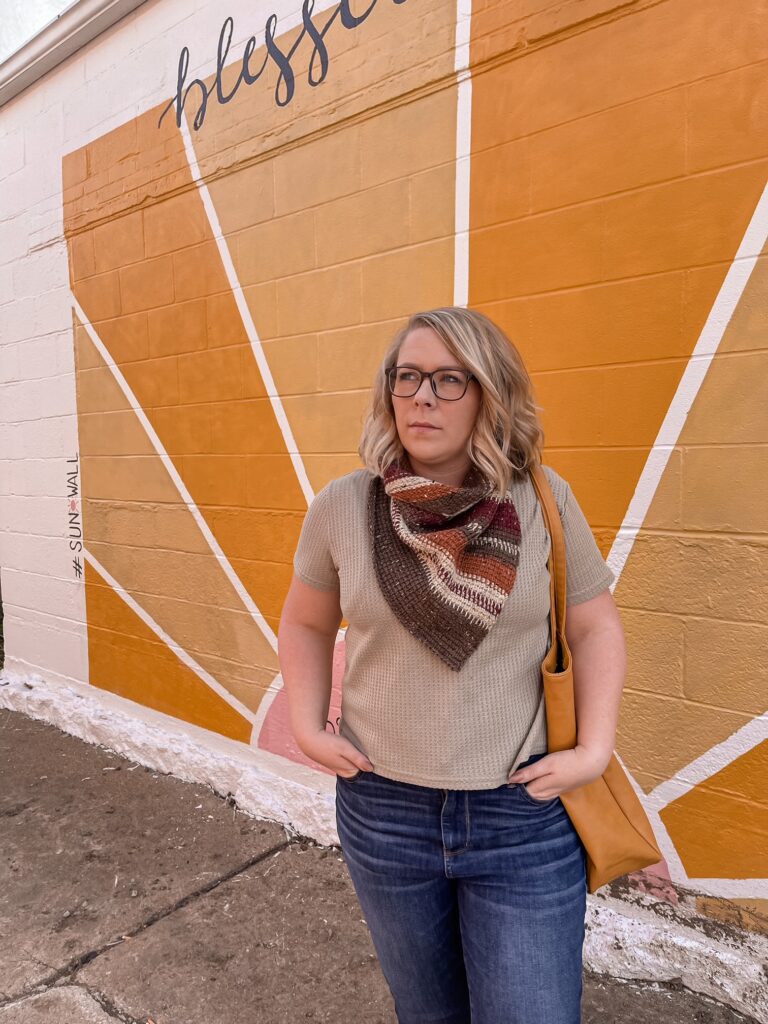 The Pattern
The full pattern is written out below, or you can pick up a low cost, ad free PDF in any of my online shops. I'd love to see and share your work! Tag me on social media @hookedhazel or share photos of your WIP or finished cowl with the hashtag #tunisianscrapcowl.
More Free Patterns
If you like this free tunisian crochet pattern, check out some of the others on my blog below.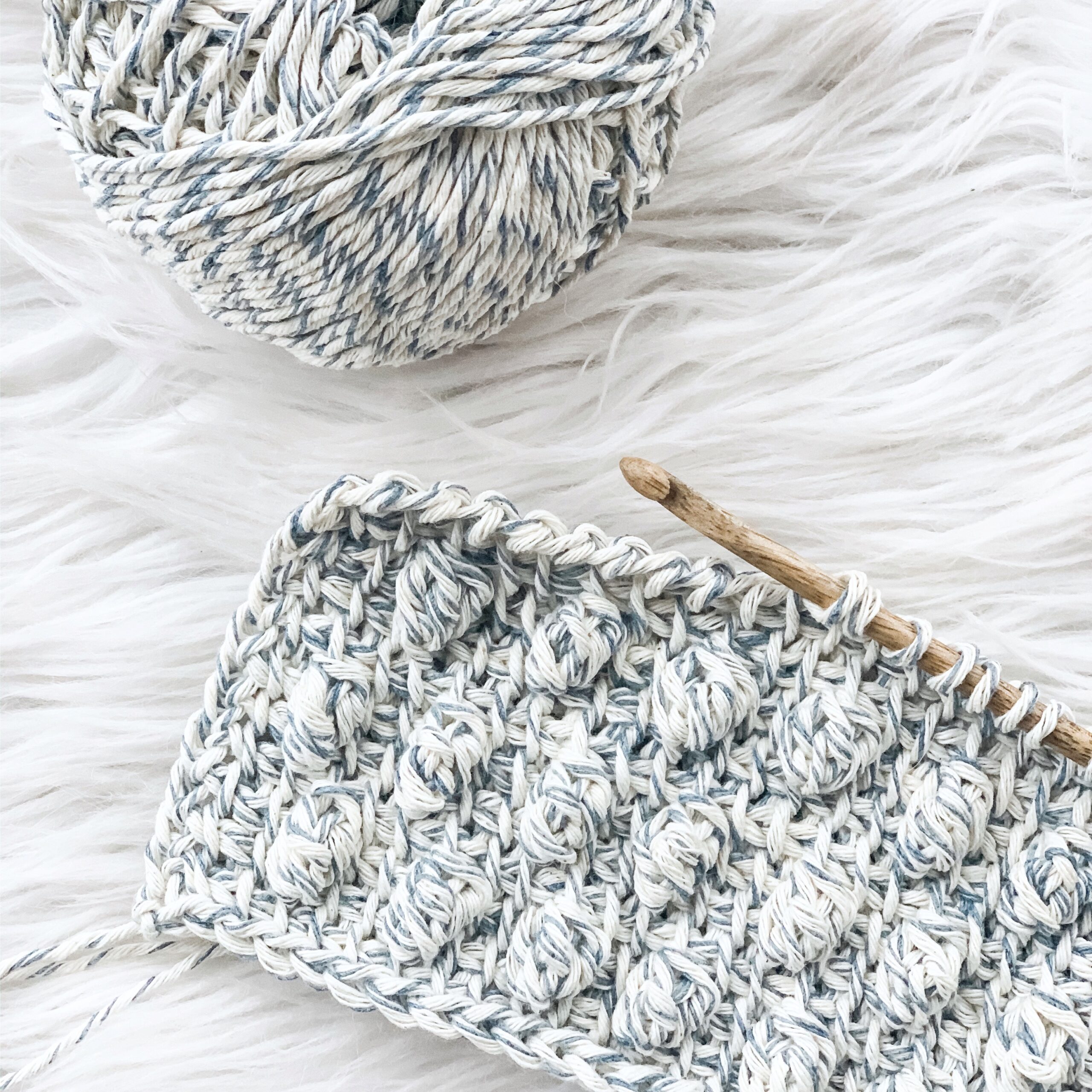 I've been on a total Tunisian Crochet kick lately! I really enjoy learning new…
February 17, 2020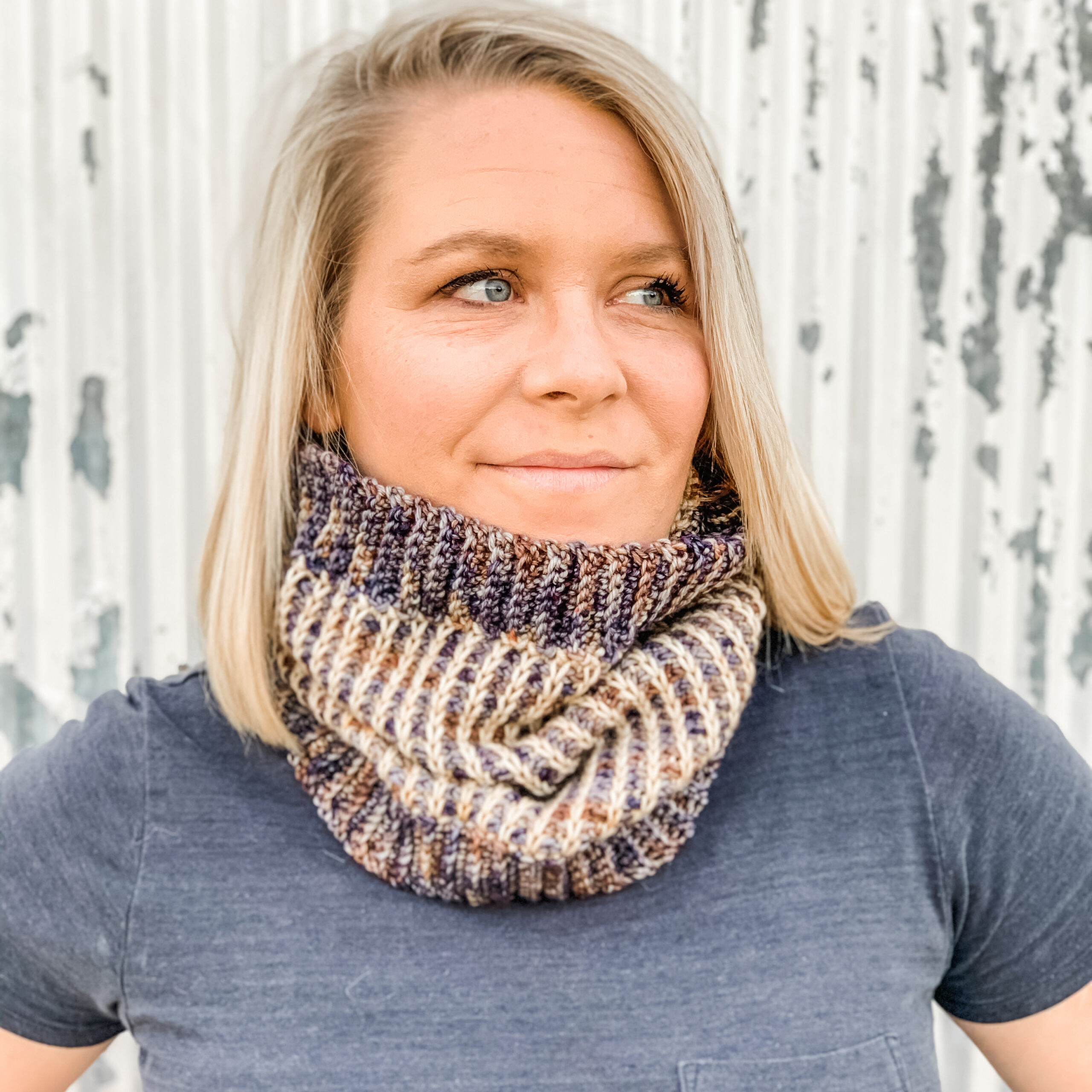 It's no secret Tunisian Crochet is my most recent love. You could maybe even…
March 23, 2020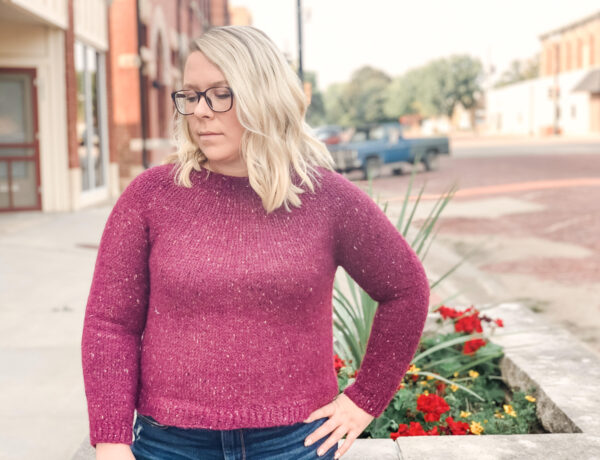 Hi friends! I am so excited to finally share with you this new Tunisian…
September 26, 2020
Supplies Needed
Yarn weight of choice, approximately (one of the following):

400 yards DK weight
330 yards worsted weight
Note – you may use other weights of yarn such as fingering or bulky, but those weights have not been tested

Tunisian crochet hook with cord, appropriately sized for your yarn choice
Scissors
Darning Needle
Blocking supplies
Abbreviations
ch – chain
slst – slip stitch
tss – tunisian simple stitch
RetP- return pass
YO- yarn over
st(s) – stitch(es)
Notes
This pattern assumes basic knowledge of Tunisian crochet.
This is an open concept pattern, in which you may utilize any yarn at any gauge. I recommend using either fingering, sport, DK, worsted, or bulky for the best drape.
Sample was made using WeCrochet City Tweed DK in four colorways.
Note that yarns may block differently – for example any yarn with nylon content will stretch more resulting in a bigger cowl post blocking.
You may choose any stripe pattern you like to utilize the yarn you have in your stash. I recommend using a variety of thick and thin stripes for visual interest.
When changing colors, do so on the return pass to create the "woven" effect.
Pattern is worked flat, on the bias, and seamed to create a cowl
Blocking prior to seaming will result in a finished item that has much better drape than without, I highly recommend blocking.
In the photo at the right, the upper right corner is the beginning of the cowl, and the dark brown bottom left edge is the bind off.
In the photo below, the orange section at the top corner was the starting point.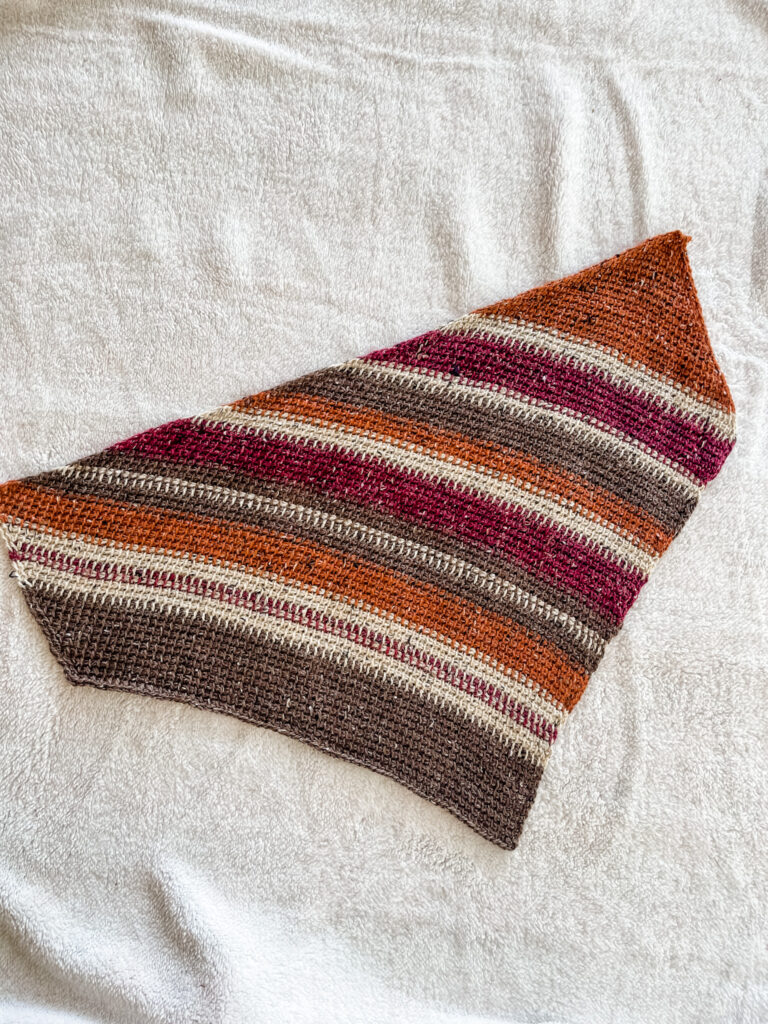 Pattern Instructions:
Section 1:
In this section, each row completed will add 2 sts.
Ch 3
Row 1: Tss in 2nd ch from hook and final ch. <3 sts>
RetP.
Row 2: Insert hook in the space between the first st on your hook and the next st, YO and pull up a loop, tss in each st until 1 st remains, insert hook in the space between the tss just made and the last st, YO and pull up a loop, tss in end st. <5 sts>
RetP.
Repeat row 2 until the right edge (line A in the diagram below) of your work is 7″ long. Make a note of how many rows you complete in this section. _____
Section 2:
In this section, each row completed will add 1 st.
Row 1: Insert hook in the space between the first st on your hook and the next st, YO and pull up a loop, tss in each st across.
RetP.
Repeat row 1 until your top edge (line B in the diagram below) measures 24″.
Section 3:
In this section, each row completed will decrease 1 st.
Row 1: Tss2tog, tss in each st across.
RetP.
Repeat row 1 for the same number of rows that you completed in section 1.
Slst bind of.
Finishing
Weave in all ends. Block your piece, taking care to flatten your bind off row as this has a tendency to curl. Sample was wet blocked.
Seam together the two short ends using your method of choice, starting at the top and working 3/4 of the way down, leaving the bottom 1/4 unseamed. This allows the cowl to sit a bit more comfortably at the neck.