When I need a comfort project, I always gravitate towards making a blanket. Blankets are the perfect way to try new techniques, learn new stitches, and experiment with fun color combinations. The 2022 Blanket Stitch-A-Thon hosted by Stitch Together Official has fast become my favorite project of the year because it ticks all those boxes. I've loved making the first four squares, and now I'm super excited to share my design for square number 5.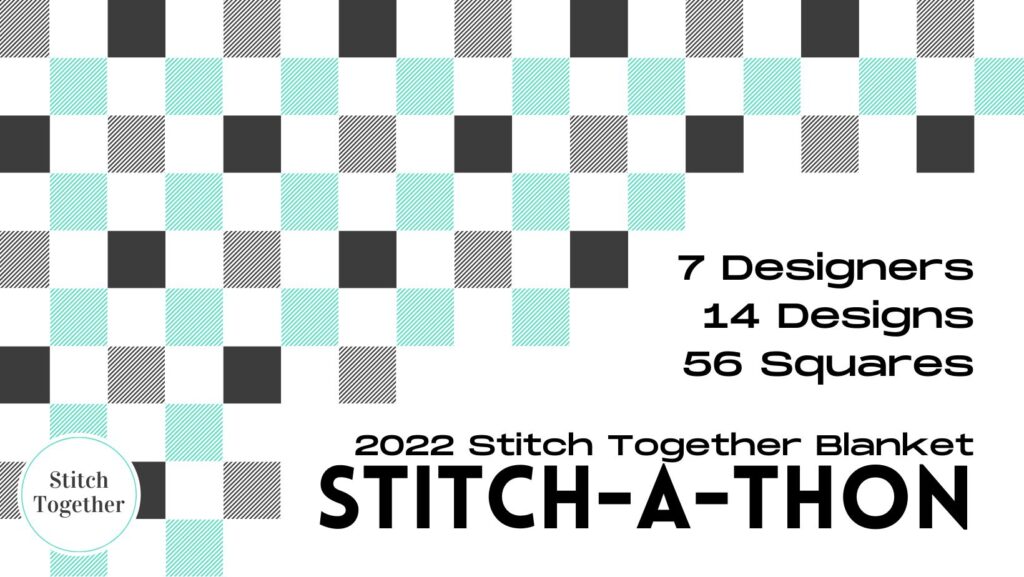 Before we get to the square pattern, I want to tell you all about the Stitch-A-Thon. If you've ever done a mystery crochet along, this will all probably be pretty familiar to you. If you haven't – no worries! This project is super easy to catch up on. Stitch Together is a crochet along group on Facebook that hosts CALs to our over 4,000 members! It's a great community full of yarn lovers and one of my favorite places to hang out on Facebook. Rather than hosting multiple crochet alongs in 2022, we decided to host one mega crochet along! Enter the Blanket Stitch-A-Thon. Every three weeks a new square design is released, and participants make 4 of each square. At the end of the year, we'll seam them together for one blanket!
Each square is hosted on the designer's blog, or you can grab one PDF that is updated with each square for the ultimate convenience. The PDF is available exclusively from WeCrochet.
While you're there, be sure to pick up some worsted weight yarn for your blanket. I used Swish Worsted in Squirrel Heather, Nutmeg Heather, Conch, and Estuary Heather. I think it's going to have a beachy feel once I put all my squares together! Swish Worsted is one of my all time favorite yarns, it is soooo soft and the colors it is offered in are super sophisticated.
Make sure you join the Facebook group to get in on all the CAL fun!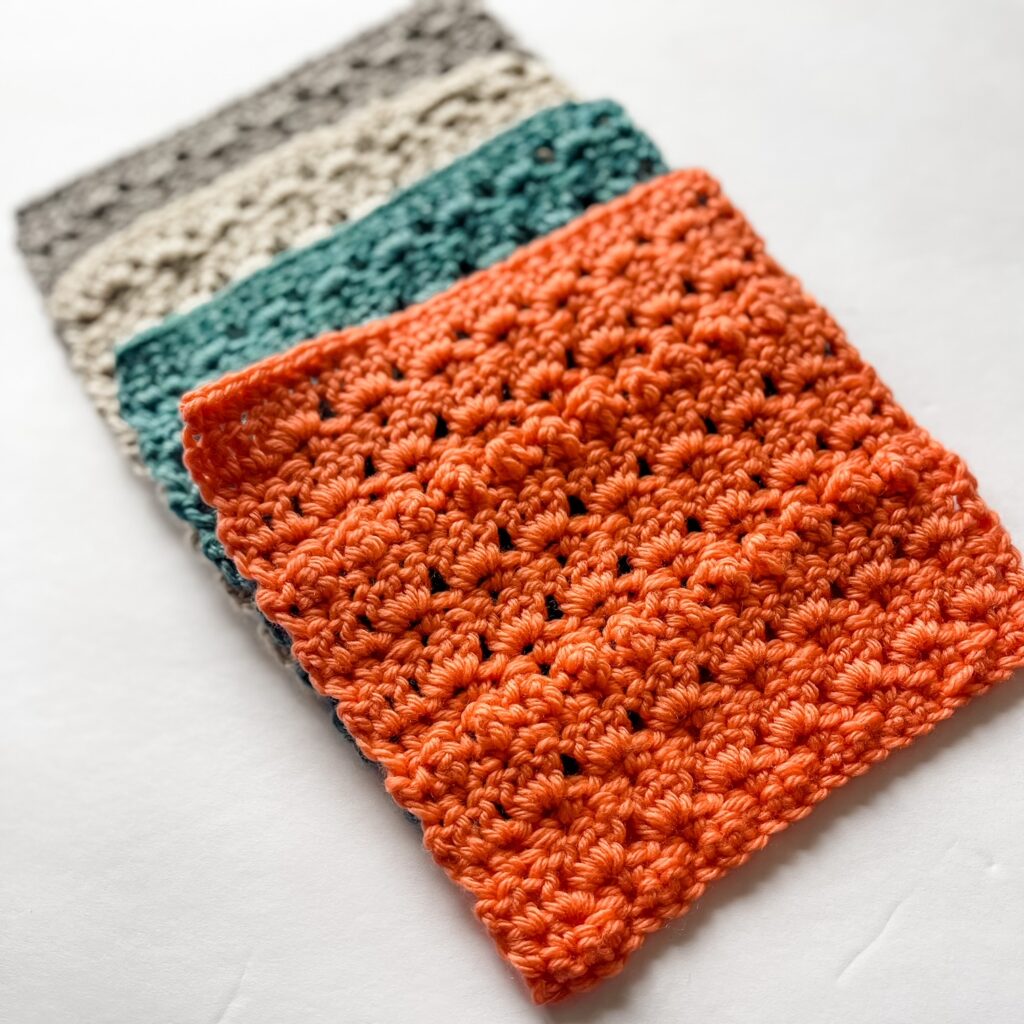 My inspiration for this square was spring! I wanted something a little bit lacy, that worked in the blanket (ie not holey). I used a combination of stitches to create what I think is a fun texture that makes me think of flowers! I hope you love it!
Need to catch up on previous squares?
The Stitch Together landing page has all the links you need! Check them out!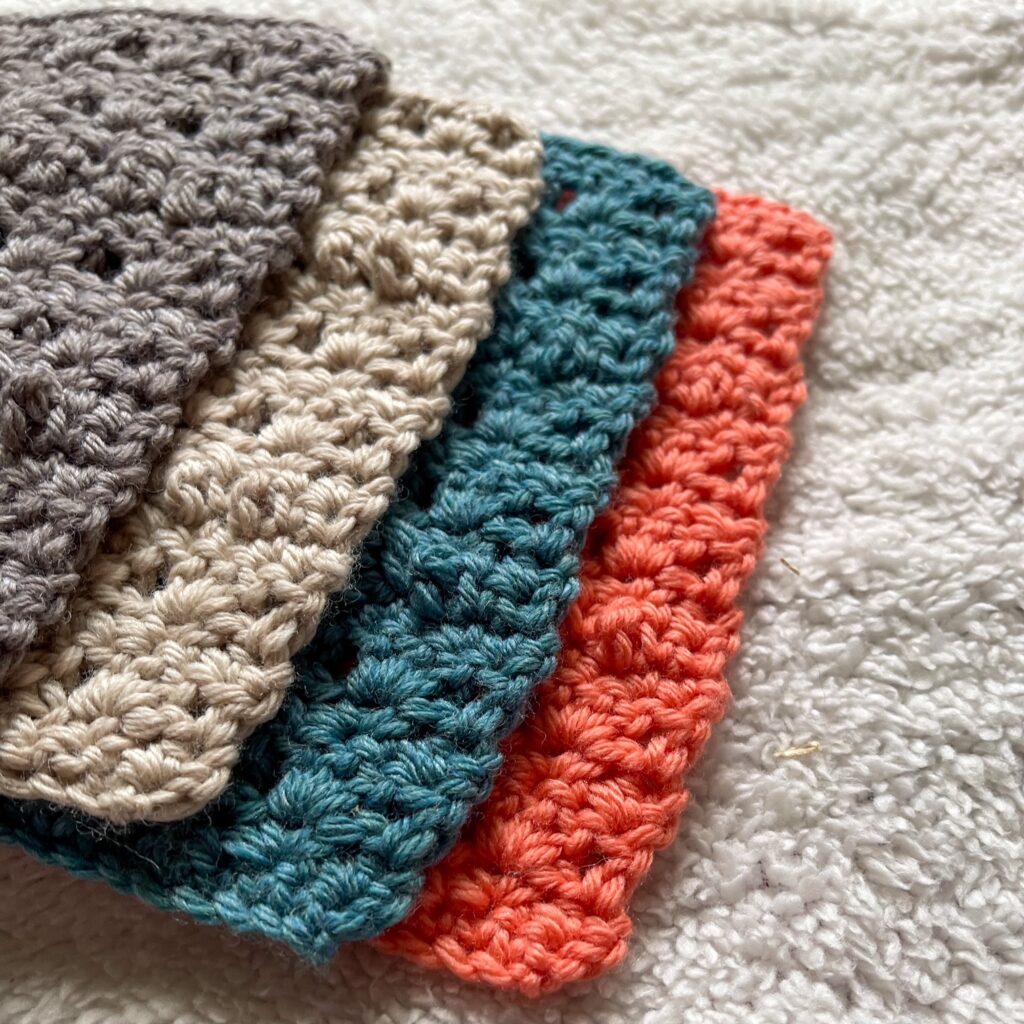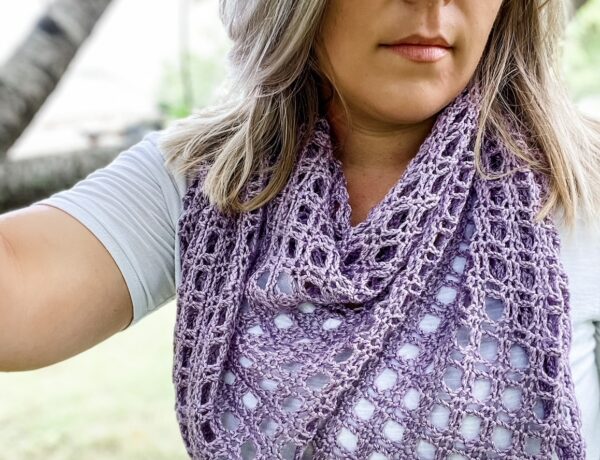 Wow – it's been a minute since I posted a free pattern! It has…
July 6, 2022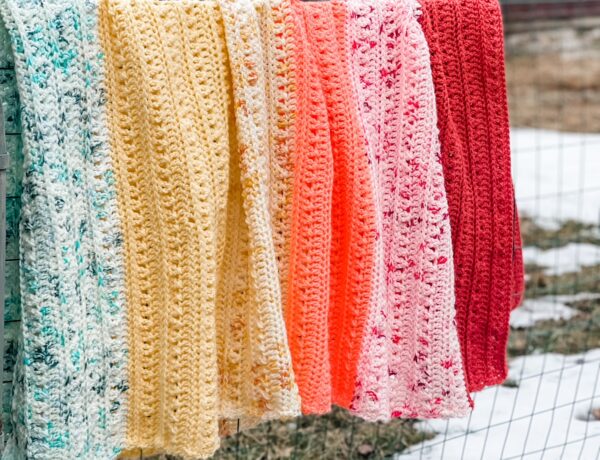 When I want a comfort project, I almost always go for a blanket. I…
January 24, 2022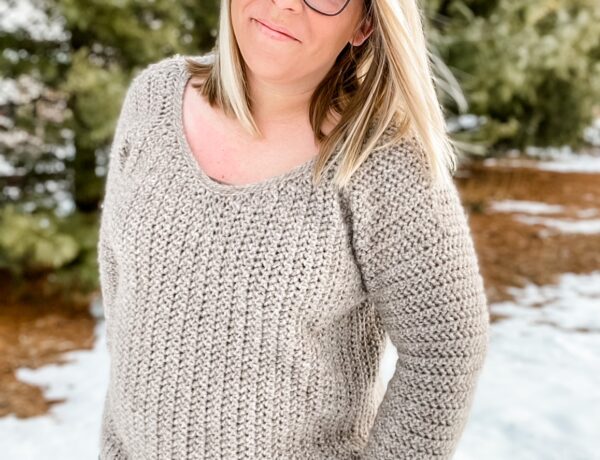 It's sweater season! I love crocheting pullovers. They are so cozy, especially when I'm…
January 18, 2022
Notes
This square is worked bottom up, row by row with a ch at the beginning row.
Ch(s) at beginning of rows do not count as a stitch.
Push your tc to the right side of the fabric to show off the texture.
Instructions given within ( ) are worked in one st.
Stitch counts are given at the end of rows where there is a change.
Abbreviations
ch – chain
sc – single crochet
hdc – half double crochet
dc – double crochet
tc – treble crochet
sk – skip
st(s) – stitch(es)
ws – wrong side
The Pattern
Ch 26
Row 1 (ws): Sc in the 2nd ch from hook and each ch across, ch1, turn. –25 sc
Row 2: Hdc 1, sk 1, *(sc 1, ch 2, sc1) in next st, sk 2, repeat from * until 2 sts remain, hdc 2, ch 2, turn. — 3 hdc, 14 sc, 7 ch 2 sp
Row 3: Dc 2, 3dc in each ch 2 sp across, dc in last st, ch 1, turn. — 24 dc
Row 4: Hdc 1, sk 1, *(sc 1, ch 2, sc 1) in next st, sk 2, repeat from * until 4 sts remain, (sc 1, ch 2, sc1) in next st, sk 1, hdc 2, ch 2, turn. — 3 hdc, 14 sc, 7 ch 2 sp
Row 5: Repeat row 3.
Row 6: Sc in each st across, ch 1, turn. — 24 sc
Row 7: Sc 1, *tc 1, sc 1, repeat from * across, sc in last st, ch 1, turn. — 13 sc, 11 tc
Row 8: Repeat row 4. — 3 hdc, 14 sc, 7 ch 2 sp
Rows 9 – 13: Repeat rows 3 – 7.
Row 14: Repeat row 4.
Rows 15 – 17: Repeat rows 3 – 5.
Row 18: Sc in each st across, fasten off. — 24 sc
Finishing:
Weave in all ends, and block your square.
I hope you've enjoyed making square 5 of the Blanket Stitch-A-Thon! Be sure to share your photos in the Facebook group or on social media with the hashtag #stitchtogetherofficial.