Wow – it's been a minute since I posted a free pattern! It has been a busy summer, and I haven't been crocheting quite as much as I'd like to. We got a new puppy – Cosmo – and he keeps the whole family busy! When I do get a minute to pick up my hooks, I seem to be drawn to crocheting shawls. The Diamond Grid Wrap is a fun one I made with WeCrochet Galileo yarn.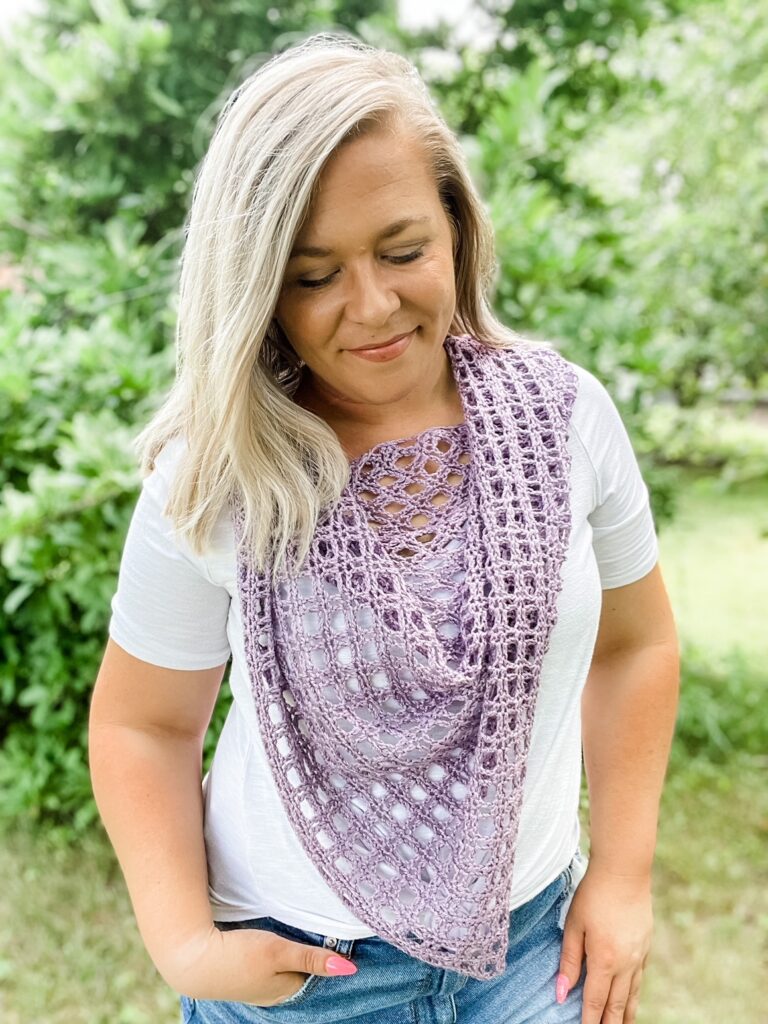 I love making triangle scarves. They are so classic! Of course, in summer they can be heavy if you don't use a lace pattern or a light yarn. I loved the idea of mesh look that was nicely defined and graphic. I played around with stiches and finally came up with this simple two row repeat. What I really love about this design is you can keep increasing as much as you want to make the shawl bigger if you'd like.
The Yarn
For this design, I used WeCrochet Galileo in one of their new colorways – Hesper. Isn't it gorgeous? I love a soft purple! Galileo is such a fun yarn, I used it in the past to make my Jules Poncho – one of my favorite ever makes. The yarn is 50% Bamboo and 50% Merino Wool; it's silky smooth and comes in a really sophisticated selection of colors. You'll need four balls for the Diamond Grid Wrap.

Stitchathon Block 12
Have you been enjoying the Stitch Together Official 2022 Stitchathon? I certainly …
Want to help me design more free patterns?
This pattern is "forever free", meaning I am not selling a PDF version of it. It's so beginner friendly, I feel like hosting it on my blog is a good idea. But if you'd like to check out some of my more advanced patterns, or try some new shawls, you can shop at the links below.
The Pattern
The entire free pattern is below, I hope you love it!
I'd love to see and share your work! Tag me on social media @hookedhazel or share photos of your WIPs with the hashtag #diamondgridwrap
Supplies Needed
WeCrochet Galileo, 50% Merino Wool, 50% Viscose from Bamboo, 4 balls, or 430 yards of a similar sport weight yarn.
4.5 mm (US G+) crochet hook, or size needed to meet gauge
Darning needle
Scissors
Blocking supplies (sample was wet blocked and pinned).
Notes
Shawl is worked in one piece.
St counts are indicated in ( ) where there is a change.
Ch 1 / ch 2 at the end of a row does not count as a stitch.
If you wish you make your shawl larger, you can repeat the stitch pattern as needed, however, this will require more yarn.
This design is beginner friendly.
Finished size is 70″ x 35″, blocked.
Abbreviations
ch – chain
st(s) – stitch(es)
sp – space
sk – skip
fsc – foundation single crochet
sc – single crochet
dc – double crochetr
RS – right side
Gauge
16 sts x 8 rows, in pattern
Let's Make it!
Row 1: Fsc 6, ch 2, turn. (6 sc)
Row 2 (RS): Dc 2, ch 2, sk 2, dc 2, ch 1, turn. (4 dc)
Row 3: Sc 2, ch 2, sk 2, sc 2, fsc 4, ch 2, turn. (8 sc)
Row 4: Dc 2, *ch 2, sk 2, dc 2*, repeat from * across, ch 1, turn. (6 dc)
Row 5: Sc 2, *ch 2, sk 2, sc 2*, repeat from * across, fsc 4, ch 2, turn. (10 sc)
Rows 6 – 79: Repeat rows 4 -5. (84 sc)
Row 80: Repeat row 4. (82 dc)
Row 81: Sc 2, *ch 2, sk 2, sc 2*, repeat from * across, fasten off. (82 sc)
Optional Edging
Your top edge will be wavy. At this point, you have two options; you can leave it that way (totally fine!) or add a straight edge. If you'd like to add a straight edge, connect yarn with a slst in the upper right corner on the RS.
Row 1: *Ch 4, slst to ch 2 sp*, repeat from * across, slst in corner, fasten off.
Finishing
Wet block your shawl to the specified measurements. Weave in all ends.