It's no secret Tunisian Crochet is my most recent love. You could maybe even say I'm slightly obsessed. I love how it has opened up a whole new world of textures and techniques for me. This new cowl pattern is no exception. This was my first project using two colors and working in the round. I absolutely love the effect – it looks like knit brioche!
If you haven't ever worked Tunisian Crochet in the round, I have a helpful how to video below that I would recommend watching to familiarize yourself with the process. Then, keep scrolling down for the pattern.
First, gather your supplies. For this project, you will need a double ended Tunisian crochet hook (6 mm). This one on Amazon will work if you only want to get one hook. However, if you see yourself getting more into Tunisian Crochet in the future, you may consider investing in a set of interchangeable hooks. I use this set from Denise Interchangeables. The nice thing about these hooks is that the set comes with a variety of cord lengths so you can use them on many projects! If you go the interchangeable route, you can use the 6mm tip for your forward pass and the 5.5mm tip for your return pass (as shown in the video above).
Want to try more Tunisian Crochet? Check out my free Washcloth Duo pattern here.

Method Tunisian Crochet
Skill Level Intermediate
Hooks 6 mm double ended hook (US J), or size needed to meet gauge
5.5 mm (US I) crochet hook
Other Yarn Needle, Locking Stitch Marker, Blocking Mats, Blocking Pins
Yarn Montana Crochet DK Weight in two colors, 230 yards each (you will only use a partial skein of each)
Gauge 4" x 4" 16 sts by 15 rows in Tss, twTss
ch chain
st stitch
slst slip stitch
Tss tunisian simple stitch
twTss twisted tunisian simple stitch
Fwp forward pass
RetP return pass
sc single crochet
blo back loops only
sk skip
sp space
Notes After the set up round, this cowl is worked in continuous rounds for the Tunisian section. Do not slst and join rou
You will use two colors for this piece, Color A for your Fwp, and Color B for you RetP. In the sample, Color A is Antler , Color B is Weathered.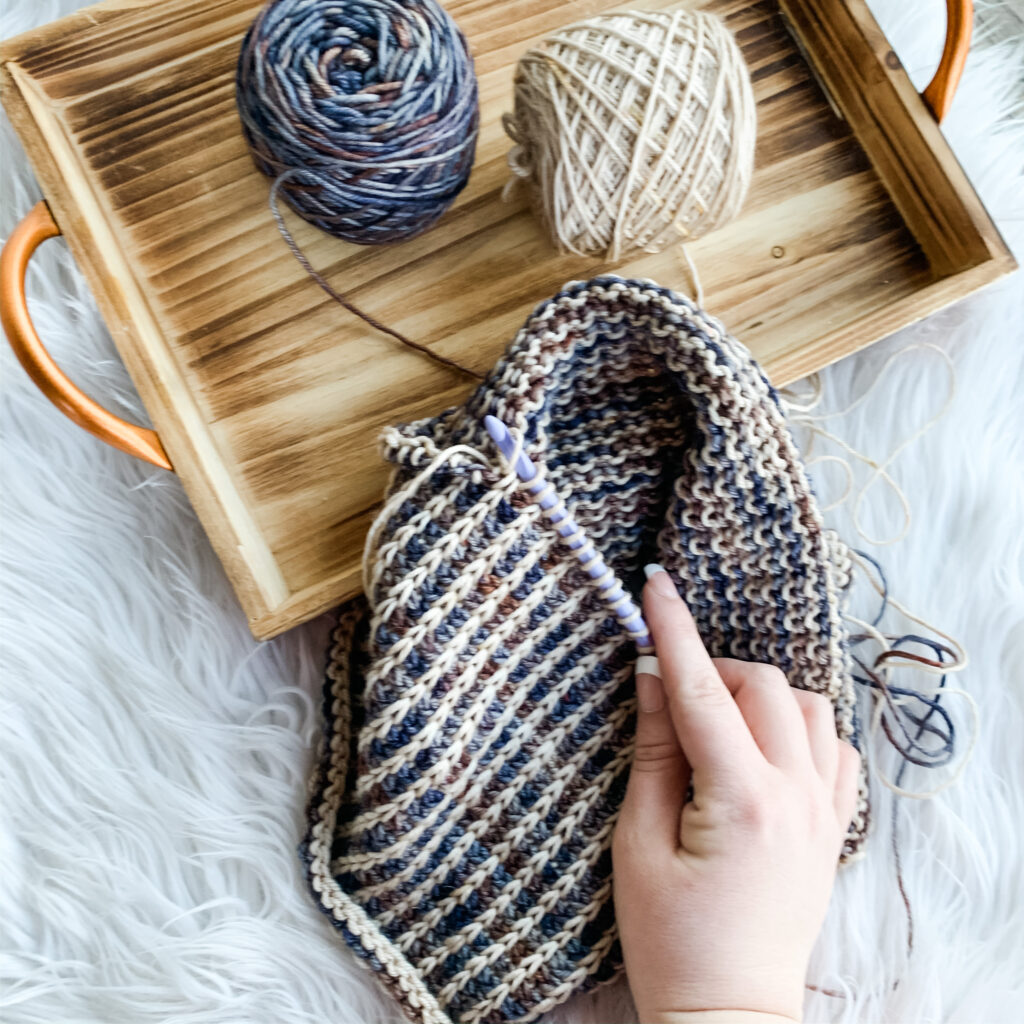 Stitches Used:
Tss: Insert hook, from right to left, into indicated stitch, yo, pull up a loop
twTss: Insert hook into indicated stitch, from left to right, yo, pull up a loop.
Bind off: Insert your hook as you would for Tss or twTss (whichever is indicated in pattern), yo, pull through both loops on hook.
Note: twTss can be a bit tricky. If you are finding it difficult to work your hook into the left side of the stitch, first insert your hook from right to left, as if working a Tss, pull the bar and lift it slightly above the chain, remove the hook from the loop, and now insert your hook from left to right to complete the stitch. You can reference the video above for help.
Set Up:
1. With Color A, ch 96. Join to work in the round with a slst to first st, being careful not to twist your chain. (Photo A)
2. Sk the ch you just joined in, and Tss in the back bump of the next 23 ch, for a total of 24 loops on your hook. (Photo B)
Helpful tip: mark your first Tss with a locking stich marker and move it up in future rounds to keep track of your rounds.
3. Turn your work so the wrong side is facing you, slide stitches to the opposite end of your hook, loop Color B on the hook. (Photo C)
4. Pull Color B through first Color A loop. (Photo D)
5. Continuing with Color B, *yo and pull through 2 loops* until 2 Color A loops remain. (Photo E)
6. Turn your work, and continue to pull up loops with Color A (24 is a good number, but more or less per your preference is fine as well.
7. Turn your work, and continuing with Color B, *yo and pull through 2 loops* until 2 Color A loops remain.
Repeat steps 6 – 7 until you have reached your stitch marker. You should have 96 Color A loops.

Continue to work each of the following rounds as you did in the set up round, working 24 sts or so at a time.
Round​ 1: With Color A, *Tss 1, twTss 1*, repeat from * to * around, move your stich marker from the first Tss of the previous round to the first Tss of this round as you go.
RetP in Color B: *yo and pull through 2 loops* Note: Do not complete the tradititional ch 1 at the start of your RetP, it is not necessary as we are working in continuous rounds.
Rounds 2 – 27: Repeat round 1.
Round 28: With color A, bind off in stitch pattern, alternating Tss and twTss., do not cut color B.
Edging (worked perpendicular to body of cowl):
With your 5.5 mm crochet hook, continuing from your bind off round with color B, Ch 9.
Row 1: Sc blo in the 2nd ch from hook and each ch, slst into next 2 st of foundation round, turn. (8 sc, 2 slst)
Row 2: Sc blo in each st, ch 1, turn. (8 sc)
Row 3: Sc blo in each st, slst into next 2 st of foundation round, turn. (8 sc, 2 slst)
Rows 4 – 95: Repeat rows 2 – 3.
Row 96: Join row 95 with row 1 by sc blo through both rows.
Finish off.
Join in first st of foundation round, and repeat rows 1 – 96 on foundation edge of cowl.
Weave in ends, and lightly block cowl so that it measures 23" in width.
Before you go…
You are welcome to sell finished items created with this pattern. I only ask that you credit Hooked Hazel with the original design. Do not use my photos to sell finished products. Do not copy, alter, or distribute this pattern.
I would appreciate your review on Etsy, Ravelry, or Instagram. Tag me in photos, and I may feature your project! Use the hashtags #hookedhazel and #tunisianribcowl to possibly be featured!