Lately I've really been loving crocheting blankets. I've completed more in the last 6 months than I probably have in my whole life! They're just so cozy to make, especially if you're snuggled up on the couch watching your favorite movie. C2C is such a fun blanket making technique. The way the design works up from corner to corner is really satisfying to watch. My favorite thing about C2C is that the options are pretty endless – you can do most any kind of design with just one stitch.
For the Fractal Throw, I wanted to play with diagonal lines and the way C2C is structured. I used a bold charcoal and white color scheme to give it a graphic punch. I really like how this blanket came out so modern and clean. The great thing about this C2C blanket is you can choose any two colors to match your personal style and decor.
The Yarn
If you've been on my blog before, you probably already know about my love for WeCrochet Brava Worsted. It is my go to yarn for making blankets – the perfect weight and durability. If I'm spending a lot of time making a blanket, I want it to last a long time! Plus, it comes in TONS of colors. Seriously, the color options are miles beyond most yarn brands. They even have some fun new speckled colorways that would be really fun in this blanket!
For this blanket, I actually used Brava 500. One skein of Brava 500 equals 5 skeins of Brava. That's a big skein! For this project I used 600 yards of Asphalt Heather and 700 yards of white.
More Free Blankets
If you like making blankets, check out a few of my favorite free blanket projects, below. I even have a Barn Quilt inspired C2C blanket pattern!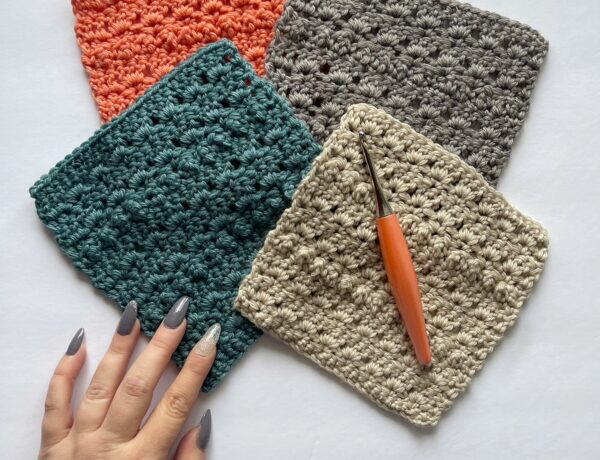 When I need a comfort project, I always gravitate towards making a blanket. Blankets…
May 11, 2022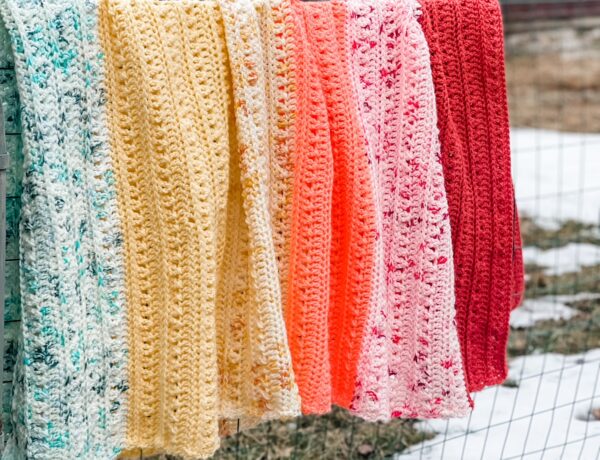 When I want a comfort project, I almost always go for a blanket. I…
January 24, 2022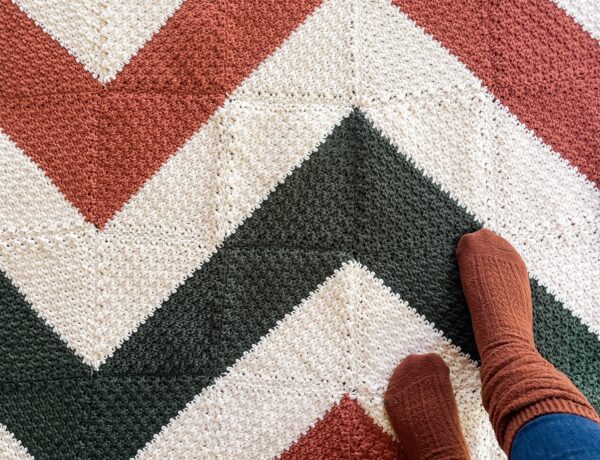 It's no secret that I love designing and crocheting blankets with stark, graphic patterns.…
September 20, 2021
The Pattern
The chart for this blanket is below, as are the written instructions. This pattern assumes you have basic knowledge of the C2C method. If you need a refresher on this method, you can visit my Barn Quilt Blanket pattern for a basic walk through. The full free pattern is below, or you can find a low cost, ad free PDF on Ravelry.
Materials
WeCrochet Brava Worsted; 700 yards White and 600 yards Asphalt Heather
5.0 mm crochet hook; I like these Furls hooks from WeCrochet
Darning needle
Scissors
Notes
Pattern is provided in both written and graph form.
This pattern uses two (2) colors of yarn.
Pattern assumes a basic knowledge of the C2C method.
Graph should be read from the bottom right corner up to the top left corner, diagonally.
Full size throw will measure approximately 50″ x 50″
Be sure to keep all loose ends and floats on the wrong side of your work
To change color, work last dc before color change until 2 loops are left on hook, drop color in use, with next color to be used draw through 2 loops on hook and continue with new color.
Gauge
5 squares x 5 rows = 4″
Chart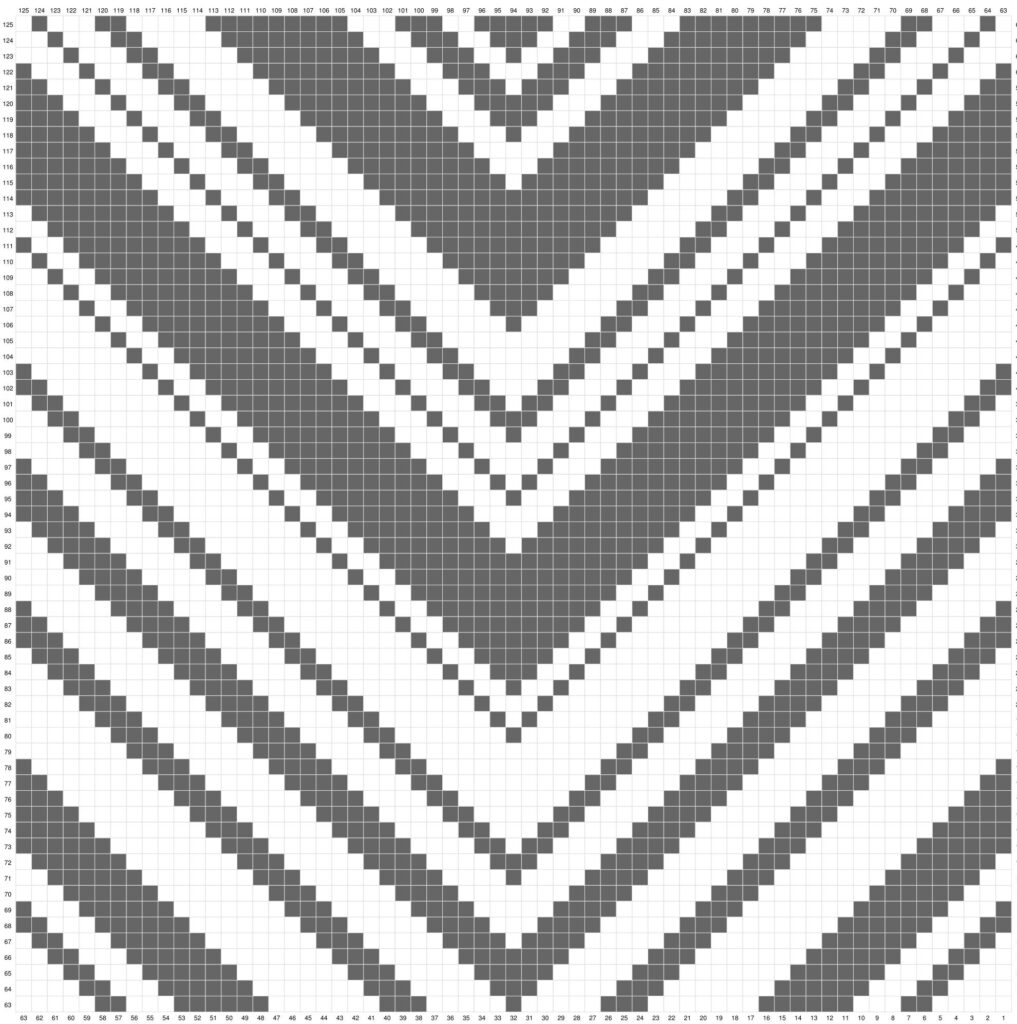 Written Instructions
Row 1: (White) x 1 (1 square)
Row 2: (White) x 2 (2 squares)
Row 3: (White) x 3 (3 squares)
Row 4: (White) x 4 (4 squares)
Row 5: (White) x 5 (5 squares)
Row 6: (Grey) x 6 (6 squares)
Row 7: (Grey) x 7 (7 squares)
Row 8: (White) x 8 (8 squares)
Row 9: (White) x 9 (9 squares)
Row 10: (White) x 10 (10 squares)
Row 11: (Grey) x 11 (11 squares)
Row 12: (Grey) x 12 (12 squares)
Row 13: (Grey) x 13 (13 squares)
Row 14: (Grey) x 14 (14 squares)
Row 15: (Grey) x 15 (15 squares)
Row 16: (Grey) x 16 (16 squares)
Row 17: (White) x 17 (17 squares)
Row 18: (White) x 18 (18 squares)
Row 19: (White) x 19 (19 squares)
Row 20: (White) x 20 (20 squares)
Row 21: (White) x 21 (21 squares)
Row 22: (White) x 22 (22 squares)
Row 23: (White) x 23 (23 squares)
Row 24: (Grey) x 24 (24 squares)
Row 25: (Grey) x 25 (25 squares)
Row 26: (Grey) x 26 (26 squares)
Row 27: (White) x 27 (27 squares)
Row 28: (White) x 28 (28 squares)
Row 29: (White) x 29 (29 squares)
Row 30: (White) x 30 (30 squares)
Row 31: (White) x 31 (31 squares)
Row 32: (Grey) x 32 (32 squares)
Row 33: (Grey) x 32, (White) x 1 (33 squares)
Row 34: (White) x 1, (Grey) x 33 (34 squares)
Row 35: (Grey) x 33, (White) x 2 (35 squares)
Row 36: (White) x 2, (Grey) x 2, (White) x 32 (36 squares)
Row 37: (White) x 32, (Grey) x 2, (White) x 3 (37 squares)
Row 38: (Grey) x 1, (White) x 2, (Grey) x 2, (White) x 33 (38 squares)
Row 39: (White) x 33, (Grey) x 2, (White) x 3, (Grey) x 1 (39 squares)
Row 40: (Grey) x 2, (White) x 2, (Grey) x 2, (White) x 2, (Grey) x 32 (40 squares)
Row 41: (Grey) x 32, (White) x 2, (Grey) x 2, (White) x 3, (Grey) x 1, (White) x 1 (41 squares)
Row 42: (White) x 1, (Grey) x 2, (White) x 2, (Grey) x 2, (White) x 2, (Grey) x 1, (White) x 32 (42 squares)
Row 43: (White) x 32, (Grey) x 1, (White) x 2, (Grey) x 2, (White) x 3, (Grey) x 1, (White) x 2 (43 squares)
Row 44: (White) x 2, (Grey) x 2, (White) x 2, (Grey) x 2, (White) x 2, (Grey) x 1, (White) x 33 (44 squares)
Row 45: (White) x 33, (Grey) x 1, (White) x 2, (Grey) x 2, (White) x 3, (Grey) x 1, (White) x 3 (45 squares)
Row 46: (White) x 3, (Grey) x 2, (White) x 2, (Grey) x 2, (White) x 2, (Grey) x 1, (White) x 34 (46 squares)
Row 47: (White) x 34, (Grey) x 1, (White) x 2, (Grey) x 2, (White) x 3, (Grey) x 1, (White) x 4 (47 squares)
Row 48: (Grey) x 1, (White) x 3, (Grey) x 2, (White) x 2, (Grey) x 2, (White) x 2, (Grey) x 1, (White) x 35 (48 squares)
Row 49: (Grey) x 32, (White) x 3, (Grey) x 1, (White) x 2, (Grey) x 2, (White) x 3, (Grey) x 1, (White) x 4, (Grey) x 1 (49 squares)
Row 50: (Grey) x 2, (White) x 3, (Grey) x 2, (White) x 2, (Grey) x 2, (White) x 2, (Grey) x 1, (White) x 36 (50 squares)

Row 51: (White) x 32, (Grey) x 1, (White) x 3, (Grey) x 1, (White) x 2, (Grey) x 2, (White) x 3, (Grey) x 1, (White) x 4, (Grey) x 2 (51 squares)
Row 52: (Grey) x 3, (White) x 3, (Grey) x 2, (White) x 2, (Grey) x 2, (White) x 2, (Grey) x 1, (White) x 5, (Grey) x 32 (52 squares)
Row 53: (Grey) x 32, (White) x 1, (Grey) x 1, (White) x 3, (Grey) x 1, (White) x 2, (Grey) x 2, (White) x 3, (Grey) x 1, (White) x 4, (Grey) x 3 (53 squares)
Row 54: (White) x 1, (Grey) x 3, (White) x 3, (Grey) x 2, (White) x 2, (Grey) x 2, (White) x 2, (Grey) x 1, (White) x 5, (Grey) x 33 (54 squares)
Row 55: (Grey) x 33, (White) x 1, (Grey) x 1, (White) x 3, (Grey) x 1, (White) x 2, (Grey) x 2, (White) x 3, (Grey) x 1, (White) x 4, (Grey) x 3, (White) x 1 (55 squares)
Row 56: (White) x 2, (Grey) x 3, (White) x 3, (Grey) x 2, (White) x 2, (Grey) x 2, (White) x 2, (Grey) x 1, (White) x 5, (Grey) x 34 (56 squares)
Row 57: (Grey) x 34, (White) x 1, (Grey) x 1, (White) x 3, (Grey) x 1, (White) x 2, (Grey) x 2, (White) x 3, (Grey) x 1, (White) x 4, (Grey) x 3, (White) x 1, (Grey) x 1 (57 squares)
Row 58: (Grey) x 1, (White) x 2, (Grey) x 3, (White) x 3, (Grey) x 2, (White) x 2, (Grey) x 2, (White) x 2, (Grey) x 1, (White) x 5, (Grey) x 35 (58 squares)
Row 59: (Grey) x 35, (White) x 1, (Grey) x 1, (White) x 3, (Grey) x 1, (White) x 2, (Grey) x 2, (White) x 3, (Grey) x 1, (White) x 4, (Grey) x 3, (White) x 1, (Grey) x 1, (White) x 1 (59 squares)
Row 60: (White) x 1, (Grey) x 1, (White) x 2, (Grey) x 3, (White) x 3, (Grey) x 2, (White) x 2, (Grey) x 2, (White) x 2, (Grey) x 1, (White) x 5, (Grey) x 36 (60 squares)
Row 61: (White) x 32, (Grey) x 4, (White) x 1, (Grey) x 1, (White) x 3, (Grey) x 1, (White) x 2, (Grey) x 2, (White) x 3, (Grey) x 1, (White) x 4, (Grey) x 3, (White) x 1, (Grey) x 1, (White) x 2 (61 squares)
Row 62: (White) x 2, (Grey) x 1, (White) x 2, (Grey) x 3, (White) x 3, (Grey) x 2, (White) x 2, (Grey) x 2, (White) x 2, (Grey) x 1, (White) x 5, (Grey) x 5, (White) x 32 (62 squares)
Row 63: (White) x 33, (Grey) x 4, (White) x 1, (Grey) x 1, (White) x 3, (Grey) x 1, (White) x 2, (Grey) x 2, (White) x 3, (Grey) x 1, (White) x 4, (Grey) x 3, (White) x 1, (Grey) x 1, (White) x 3 (63 squares)
Corner
Row 64: (White) x 2, (Grey) x 1, (White) x 2, (Grey) x 3, (White) x 3, (Grey) x 2, (White) x 2, (Grey) x 2, (White) x 2, (Grey) x 1, (White) x 5, (Grey) x 5, (White) x 1, (Grey) x 31 (62 squares)
Row 65: (White) x 32, (Grey) x 4, (White) x 1, (Grey) x 1, (White) x 3, (Grey) x 1, (White) x 2, (Grey) x 2, (White) x 3, (Grey) x 1, (White) x 4, (Grey) x 3, (White) x 1, (Grey) x 1, (White) x 2 (61 squares)
Row 66: (White) x 1, (Grey) x 1, (White) x 2, (Grey) x 3, (White) x 3, (Grey) x 2, (White) x 2, (Grey) x 2, (White) x 2, (Grey) x 1, (White) x 5, (Grey) x 5, (White) x 1, (Grey) x 1, (White) x 29 (60 squares)
Row 67: (White) x 31, (Grey) x 4, (White) x 1, (Grey) x 1, (White) x 3, (Grey) x 1, (White) x 2, (Grey) x 2, (White) x 3, (Grey) x 1, (White) x 4, (Grey) x 3, (White) x 1, (Grey) x 1, (White) x 1 (59 squares)
Row 68: (Grey) x 1, (White) x 2, (Grey) x 3, (White) x 3, (Grey) x 2, (White) x 2, (Grey) x 2, (White) x 2, (Grey) x 1, (White) x 5, (Grey) x 5, (White) x 1, (Grey) x 1, (White) x 1, (Grey) x 27 (58 squares)
Row 69: (Grey) x 26, (White) x 4, (Grey) x 4, (White) x 1, (Grey) x 1, (White) x 3, (Grey) x 1, (White) x 2, (Grey) x 2, (White) x 3, (Grey) x 1, (White) x 4, (Grey) x 3, (White) x 1, (Grey) x 1 (57 squares)
Row 70: (White) x 2, (Grey) x 3, (White) x 3, (Grey) x 2, (White) x 2, (Grey) x 2, (White) x 2, (Grey) x 1, (White) x 5, (Grey) x 5, (White) x 1, (Grey) x 1, (White) x 1, (Grey) x 1, (White) x 25 (56 squares)
Row 71: (White) x 24, (Grey) x 1, (White) x 4, (Grey) x 4, (White) x 1, (Grey) x 1, (White) x 3, (Grey) x 1, (White) x 2, (Grey) x 2, (White) x 3, (Grey) x 1, (White) x 4, (Grey) x 3, (White) x 1 (55 squares)
Row 72: (White) x 1, (Grey) x 3, (White) x 3, (Grey) x 2, (White) x 2, (Grey) x 2, (White) x 2, (Grey) x 1, (White) x 5, (Grey) x 5, (White) x 1, (Grey) x 1, (White) x 1, (Grey) x 1, (White) x 24 (54 squares)
Row 73: (White) x 23, (Grey) x 1, (White) x 4, (Grey) x 4, (White) x 1, (Grey) x 1, (White) x 3, (Grey) x 1, (White) x 2, (Grey) x 2, (White) x 3, (Grey) x 1, (White) x 4, (Grey) x 3 (53 squares)
Row 74: (Grey) x 3, (White) x 3, (Grey) x 2, (White) x 2, (Grey) x 2, (White) x 2, (Grey) x 1, (White) x 5, (Grey) x 5, (White) x 1, (Grey) x 1, (White) x 1, (Grey) x 1, (White) x 23 (52 squares)
Row 75: (Grey) x 20, (White) x 2, (Grey) x 1, (White) x 4, (Grey) x 4, (White) x 1, (Grey) x 1, (White) x 3, (Grey) x 1, (White) x 2, (Grey) x 2, (White) x 3, (Grey) x 1, (White) x 4, (Grey) x 2 (51 squares)
Row 76: (Grey) x 2, (White) x 3, (Grey) x 2, (White) x 2, (Grey) x 2, (White) x 2, (Grey) x 1, (White) x 5, (Grey) x 5, (White) x 1, (Grey) x 1, (White) x 1, (Grey) x 1, (White) x 3, (Grey) x 19 (50 squares)
Row 77: (Grey) x 19, (White) x 2, (Grey) x 1, (White) x 4, (Grey) x 4, (White) x 1, (Grey) x 1, (White) x 3, (Grey) x 1, (White) x 2, (Grey) x 2, (White) x 3, (Grey) x 1, (White) x 4, (Grey) x 1 (49 squares)
Row 78: (Grey) x 1, (White) x 3, (Grey) x 2, (White) x 2, (Grey) x 2, (White) x 2, (Grey) x 1, (White) x 5, (Grey) x 5, (White) x 1, (Grey) x 1, (White) x 1, (Grey) x 1, (White) x 3, (Grey) x 18 (48 squares)
Row 79: (Grey) x 18, (White) x 2, (Grey) x 1, (White) x 4, (Grey) x 4, (White) x 1, (Grey) x 1, (White) x 3, (Grey) x 1, (White) x 2, (Grey) x 2, (White) x 3, (Grey) x 1, (White) x 4 (47 squares)
Row 80: (White) x 3, (Grey) x 2, (White) x 2, (Grey) x 2, (White) x 2, (Grey) x 1, (White) x 5, (Grey) x 5, (White) x 1, (Grey) x 1, (White) x 1, (Grey) x 1, (White) x 3, (Grey) x 17 (46 squares)
Row 81: (Grey) x 17, (White) x 2, (Grey) x 1, (White) x 4, (Grey) x 4, (White) x 1, (Grey) x 1, (White) x 3, (Grey) x 1, (White) x 2, (Grey) x 2, (White) x 3, (Grey) x 1, (White) x 3 (45 squares)
Row 82: (White) x 2, (Grey) x 2, (White) x 2, (Grey) x 2, (White) x 2, (Grey) x 1, (White) x 5, (Grey) x 5, (White) x 1, (Grey) x 1, (White) x 1, (Grey) x 1, (White) x 3, (Grey) x 16 (44 squares)
Row 83: (Grey) x 16, (White) x 2, (Grey) x 1, (White) x 4, (Grey) x 4, (White) x 1, (Grey) x 1, (White) x 3, (Grey) x 1, (White) x 2, (Grey) x 2, (White) x 3, (Grey) x 1, (White) x 2 (43 squares)
Row 84: (White) x 1, (Grey) x 2, (White) x 2, (Grey) x 2, (White) x 2, (Grey) x 1, (White) x 5, (Grey) x 5, (White) x 1, (Grey) x 1, (White) x 1, (Grey) x 1, (White) x 3, (Grey) x 4, (White) x 11 (42 squares)
Row 85: (White) x 10, (Grey) x 5, (White) x 2, (Grey) x 1, (White) x 4, (Grey) x 4, (White) x 1, (Grey) x 1, (White) x 3, (Grey) x 1, (White) x 2, (Grey) x 2, (White) x 3, (Grey) x 1, (White) x 1 (41 squares)
Row 86: (Grey) x 2, (White) x 2, (Grey) x 2, (White) x 2, (Grey) x 1, (White) x 5, (Grey) x 5, (White) x 1, (Grey) x 1, (White) x 1, (Grey) x 1, (White) x 3, (Grey) x 4, (White) x 10 (40 squares)

Row 87: (Grey) x 8, (White) x 1, (Grey) x 5, (White) x 2, (Grey) x 1, (White) x 4, (Grey) x 4, (White) x 1, (Grey) x 1, (White) x 3, (Grey) x 1, (White) x 2, (Grey) x 2, (White) x 3, (Grey) x 1 (39 squares)
Row 88: (Grey) x 1, (White) x 2, (Grey) x 2, (White) x 2, (Grey) x 1, (White) x 5, (Grey) x 5, (White) x 1, (Grey) x 1, (White) x 1, (Grey) x 1, (White) x 3, (Grey) x 4, (White) x 2, (Grey) x 7 (38 squares)
Row 89: (Grey) x 7, (White) x 1, (Grey) x 5, (White) x 2, (Grey) x 1, (White) x 4, (Grey) x 4, (White) x 1, (Grey) x 1, (White) x 3, (Grey) x 1, (White) x 2, (Grey) x 2, (White) x 3 (37 squares)
Row 90: (White) x 2, (Grey) x 2, (White) x 2, (Grey) x 1, (White) x 5, (Grey) x 5, (White) x 1, (Grey) x 1, (White) x 1, (Grey) x 1, (White) x 3, (Grey) x 4, (White) x 2, (Grey) x 1, (White) x 5 (36 squares)
Row 91: (White) x 4, (Grey) x 2, (White) x 1, (Grey) x 5, (White) x 2, (Grey) x 1, (White) x 4, (Grey) x 4, (White) x 1, (Grey) x 1, (White) x 3, (Grey) x 1, (White) x 2, (Grey) x 2, (White) x 2 (35 squares)
Row 92: (White) x 1, (Grey) x 2, (White) x 2, (Grey) x 1, (White) x 5, (Grey) x 5, (White) x 1, (Grey) x 1, (White) x 1, (Grey) x 1, (White) x 3, (Grey) x 4, (White) x 2, (Grey) x 1, (White) x 1, (Grey) x 3 (34 squares)
Row 93: (Grey) x 2, (White) x 1, (Grey) x 2, (White) x 1, (Grey) x 5, (White) x 2, (Grey) x 1, (White) x 4, (Grey) x 4, (White) x 1, (Grey) x 1, (White) x 3, (Grey) x 1, (White) x 2, (Grey) x 2, (White) x 1 (33 squares)
Row 94: (Grey) x 2, (White) x 2, (Grey) x 1, (White) x 5, (Grey) x 5, (White) x 1, (Grey) x 1, (White) x 1, (Grey) x 1, (White) x 3, (Grey) x 4, (White) x 2, (Grey) x 1, (White) x 1, (Grey) x 2 (32 squares)
Row 95: (Grey) x 1, (White) x 1, (Grey) x 2, (White) x 1, (Grey) x 5, (White) x 2, (Grey) x 1, (White) x 4, (Grey) x 4, (White) x 1, (Grey) x 1, (White) x 3, (Grey) x 1, (White) x 2, (Grey) x 2 (31 squares)
Row 96: (Grey) x 1, (White) x 2, (Grey) x 1, (White) x 5, (Grey) x 5, (White) x 1, (Grey) x 1, (White) x 1, (Grey) x 1, (White) x 3, (Grey) x 4, (White) x 2, (Grey) x 1, (White) x 1, (Grey) x 1 (30 squares)
Row 97: (White) x 1, (Grey) x 2, (White) x 1, (Grey) x 5, (White) x 2, (Grey) x 1, (White) x 4, (Grey) x 4, (White) x 1, (Grey) x 1, (White) x 3, (Grey) x 1, (White) x 2, (Grey) x 1 (29 squares)
Row 98: (White) x 2, (Grey) x 1, (White) x 5, (Grey) x 5, (White) x 1, (Grey) x 1, (White) x 1, (Grey) x 1, (White) x 3, (Grey) x 4, (White) x 2, (Grey) x 1, (White) x 1 (28 squares)
Row 99: (Grey) x 2, (White) x 1, (Grey) x 5, (White) x 2, (Grey) x 1, (White) x 4, (Grey) x 4, (White) x 1, (Grey) x 1, (White) x 3, (Grey) x 1, (White) x 2 (27 squares)
Row 100: (White) x 1, (Grey) x 1, (White) x 5, (Grey) x 5, (White) x 1, (Grey) x 1, (White) x 1, (Grey) x 1, (White) x 3, (Grey) x 4, (White) x 2, (Grey) x 1 (26 squares)
Row 101: (Grey) x 1, (White) x 1, (Grey) x 5, (White) x 2, (Grey) x 1, (White) x 4, (Grey) x 4, (White) x 1, (Grey) x 1, (White) x 3, (Grey) x 1, (White) x 1 (25 squares)
Row 102: (Grey) x 1, (White) x 5, (Grey) x 5, (White) x 1, (Grey) x 1, (White) x 1, (Grey) x 1, (White) x 3, (Grey) x 4, (White) x 2 (24 squares)
Row 103: (White) x 1, (Grey) x 5, (White) x 2, (Grey) x 1, (White) x 4, (Grey) x 4, (White) x 1, (Grey) x 1, (White) x 3, (Grey) x 1 (23 squares)
Row 104: (White) x 5, (Grey) x 5, (White) x 1, (Grey) x 1, (White) x 1, (Grey) x 1, (White) x 3, (Grey) x 4, (White) x 1 (22 squares)
Row 105: (Grey) x 5, (White) x 2, (Grey) x 1, (White) x 4, (Grey) x 4, (White) x 1, (Grey) x 1, (White) x 3 (21 squares)
Row 106: (White) x 4, (Grey) x 5, (White) x 1, (Grey) x 1, (White) x 1, (Grey) x 1, (White) x 3, (Grey) x 4 (20 squares)
Row 107: (Grey) x 4, (White) x 2, (Grey) x 1, (White) x 4, (Grey) x 4, (White) x 1, (Grey) x 1, (White) x 2 (19 squares)

Row 108: (White) x 3, (Grey) x 5, (White) x 1, (Grey) x 1, (White) x 1, (Grey) x 1, (White) x 3, (Grey) x 3 (18 squares)
Row 109: (Grey) x 3, (White) x 2, (Grey) x 1, (White) x 4, (Grey) x 4, (White) x 1, (Grey) x 1, (White) x 1 (17 squares)
Row 110: (White) x 2, (Grey) x 5, (White) x 1, (Grey) x 1, (White) x 1, (Grey) x 1, (White) x 3, (Grey) x 2 (16 squares)
Row 111: (Grey) x 2, (White) x 2, (Grey) x 1, (White) x 4, (Grey) x 4, (White) x 1, (Grey) x 1 (15 squares)
Row 112: (White) x 1, (Grey) x 5, (White) x 1, (Grey) x 1, (White) x 1, (Grey) x 1, (White) x 3, (Grey) x 1 (14 squares)
Row 113: (Grey) x 1, (White) x 2, (Grey) x 1, (White) x 4, (Grey) x 4, (White) x 1 (13 squares)
Row 114: (Grey) x 5, (White) x 1, (Grey) x 1, (White) x 1, (Grey) x 1, (White) x 3 (12 squares)
Row 115: (White) x 2, (Grey) x 1, (White) x 4, (Grey) x 4 (11 squares)
Row 116: (Grey) x 4, (White) x 1, (Grey) x 1, (White) x 1, (Grey) x 1, (White) x 2 (10 squares)
Row 117: (White) x 1, (Grey) x 1, (White) x 4, (Grey) x 3 (9 squares)
Row 118: (Grey) x 3, (White) x 1, (Grey) x 1, (White) x 1, (Grey) x 1, (White) x 1 (8 squares)
Row 119: (Grey) x 1, (White) x 4, (Grey) x 2 (7 squares)
Row 120: (Grey) x 2, (White) x 1, (Grey) x 1, (White) x 1, (Grey) x 1 (6 squares)
Row 121: (White) x 4, (Grey) x 1 (5 squares)
Row 122: (Grey) x 1, (White) x 1, (Grey) x 1, (White) x 1 (4 squares)
Row 123: (White) x 3 (3 squares)
Row 124: (White) x 1, (Grey) x 1 (2 squares)
Row 125: (White) x 1 (1 square)