What's the coziest type of crochet project? For me it's definitely a blanket! I'll be honest, I normally lack the motivation to complete an entire blanket. I start with good intentions, but I usually get bored pretty fast. However, being pretty much homebound this year has left me craving makes that make me feel cheerful and cozy. I have so much more time on my hands than normal, so I felt like now was the perfect time to design and crochet a blanket. I'm so excited to share with you this C2C blanket pattern. Hopefully you enjoy it just as much as I did.
Barn Quilt Inspiration
My inspirations for this design are the beautiful barn quilts that dot outbuildings and barns across the Midwest. Drawing inspiration from classic quilt patterns, these large squares add a personal touch to the buildings they adorn. They are lovingly hand crafted to honor family members, and that really resonated with me. In 2020, one thing I have learned, or rather, had reinforced, is that family is precious and is something to be treasured. As of this writing, I have had several loved ones and neighbors contract Covid. Most have been mild cases, a few have been severe, and more than one has resulted in death.
I know that this blanket will always remind me of 2020, and the challenges we have faced this year. Someday I will pass it down to my daughter, and maybe someday she will pass it down to hers. It will be an heirloom full of memories of a year unlike any other, where we have all had to deal with pain and loss, but also have had hope and cared for one another.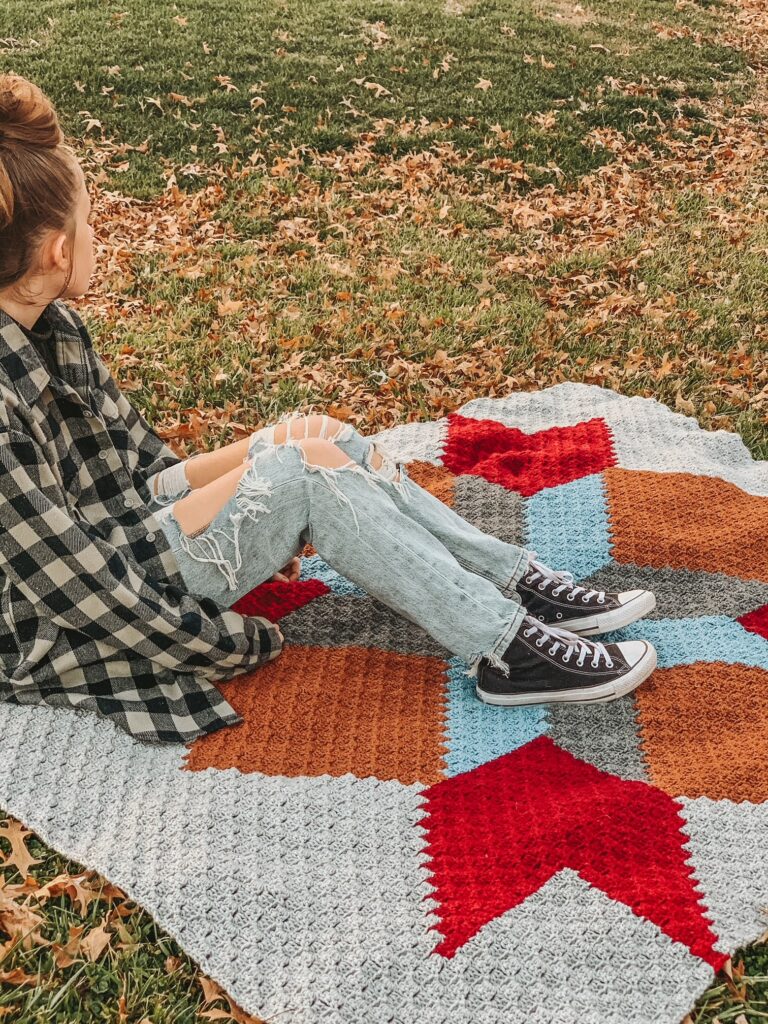 The Yarn
For this blanket, I used WeCrochet Brava Worsted. This hearty acrylic yarn holds up to washing and drying, and comes in over 40 vibrant colors. I chose to use Dove Heather, Brindle, Wine, Charcoal Heather, and Denim. I wanted a color palette that was both rustic and modern. When I got my yarn in the mail, the colors worked together even better than I imagined! The yarn works perfectly for a C2C blanket pattern like this one.
This yarn is also a great value. Clocking in at under $3/skein, it's a wonderfully low cost option that doesn't FEEL like it would be so inexpensive. I've found other comparable acrylics to cost twice as much. Seriously, you won't believe how squishy it is! You can check it out at my affiliate link here.
Other Blanket Patterns
If you enjoy making blankets, I have a couple others available including the Trudie Afghan, which is also a free crochet pattern.
C2C Method
As soon as I started thinking about this design, I knew I wanted to utilize the corner to corner stitch! This pattern assumes basic knowledge of the C2C method. Below is a brief explanation of the C2C pattern, but if you would like a full tutorial I recommend this post by MeghanMakesDo.
Ch 6
Row 1: Dc in 4th ch from hook and each ch across, turn.
Row 2: Ch 6, dc in 4th ch from hook and next 2 ch, slst to turning ch to join, ch 3, 3 dc in turning ch, turn.
Row 3: Ch 6, dc in 4th ch from hook and next 2 ch, *slst to turning ch to join, ch 3, 3 dc in turning ch*, repeat from * to * across, turn.
Repeat row 3 until you reach a corner (notated in written instructions).
When you reach the widest/tallest point in the graph, you will keep the edge straight by doing the following:
Row 1: Slst in first 3 dc, slst in turning ch, ch 3, 3 dc in turning ch, *slst to turning ch to join, ch 3, 3 dc in turning ch*, repeat from * to * across, turn.
You will work the opposite rows as in the main pattern.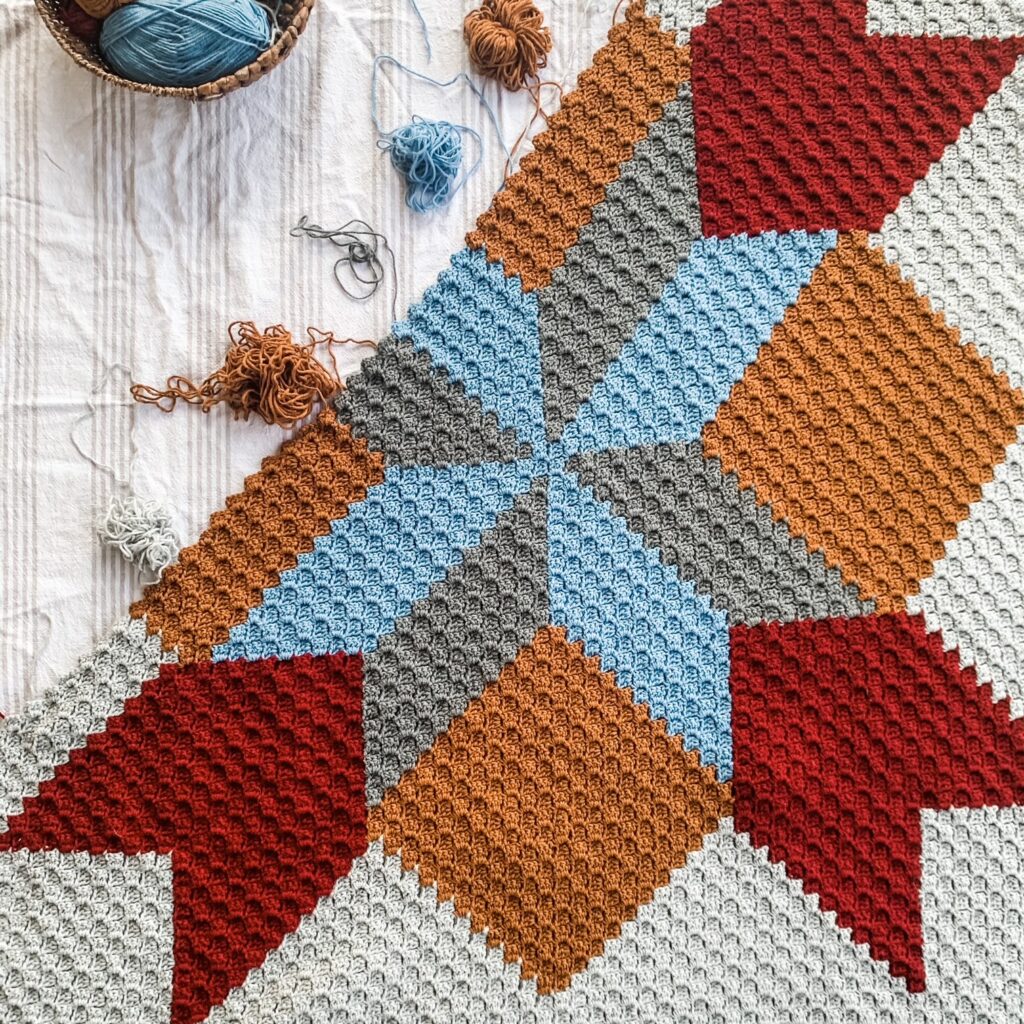 The Pattern
Below you will find the pattern and graph for the large sized throw I made. I know making a big pattern like this can seem a little daunting. So, I am offering two additional sizes in my premium PDF. Along with all the information below, you will also get patterns and graphs for a 41″ x 55″ blanket and a 53″ x 53″ blanket. The premium PDF is 14 pages long and includes larger, printable graphs as well as written instructions for all three blanket sizes. I wanted to really pack it with value for you!
If you make this blanket, I hope you will share on social media with the hashtag #barnquiltblanket and tag me in your makes! I'd love to see them and share!
Supplies Needed
WeCrochet Brava Worsted, 218 yards/skein, 100% Premium Acrylic
C1 (Dove Heather) – 8 skeins
C2 (Brindle) – 4 skeins
C3 (Wine) – 3 skeins
C4 (Charcoal Heather) – 2 skeins
C5 (Denim) – 2 skeins
US H/5mm crochet hook, or size needed to meet gauge
Scissors
Darning Needle
Abbreviations
ch – chain
slst – slip stitch
dc – double crochet
C1 – Color 1
C2 – Color 2
C3 – Color 3
C4 – Color 4
C5 – Color 5
RS – Right side
WS – Wrong side
Pattern Notes
Pattern is provided in both written and graph form.
This pattern uses five (5) colors of yarn. Where an instruction says (C1) 5, C2, (C1) 5, this means you work 5 C2C blocks in C1, then 1 in C2, and finally 5 in C1.
Pattern assumes a basic knowledge of the C2C method.
Graph should be read from the bottom right corner up to the top left corner, diagonally.
Full size throw will measure approximately 53″ x 68″
Be sure to keep all loose ends and floats on the wrong side of your work
To change color, work last dc before color change until 2 loops are left on hook, drop color in use, with next color to be used draw through 2 loops on hook and continue with new color.
Gauge
5 squares x 5 rows = 4″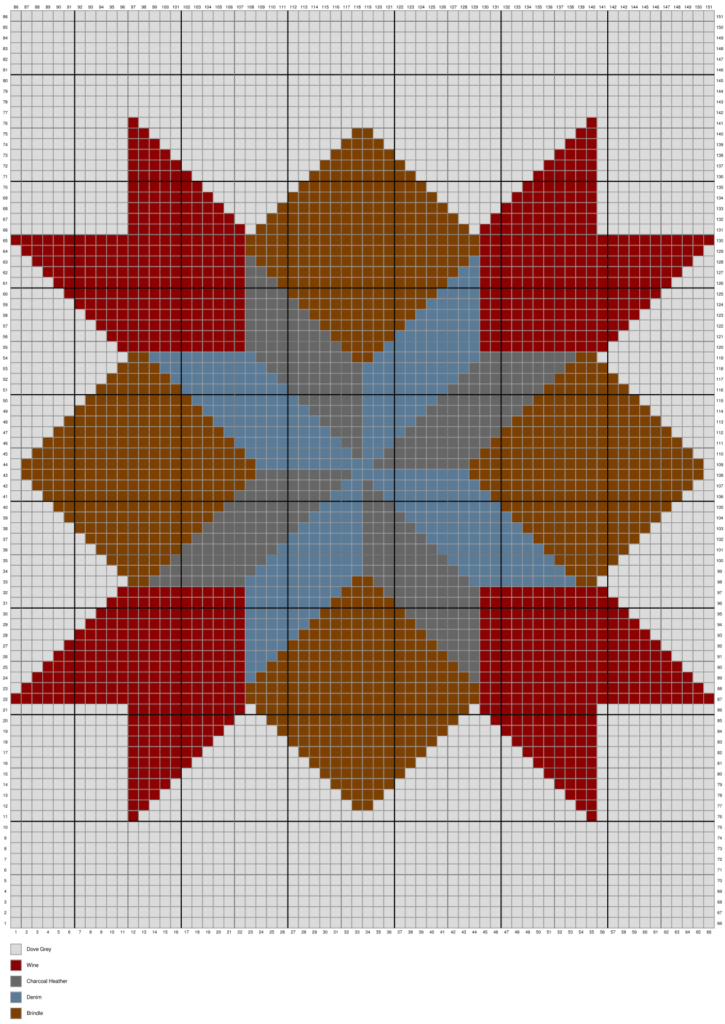 Written Instructions
Row 1: C1
Row 2: (C1) x 2
Row 3: (C1) x 3
Row 4: (C1) x 4
Row 5: (C1) x 5
Row 6: (C1) x 6
Row 7: (C1) x 7
Row 8: (C1) x 8
Row 9: (C1) x 9
Row 10: (C1) x 10
Row 11: (C1) x 11
Row 12: (C1) x 12
Row 13: (C1) x 13
Row 14: (C1) x 14
Row 15: (C1) x 15
Row 16: (C1) x 16
Row 17: (C1) x 17
Row 18: (C1) x 18
Row 19: (C1) x 19
Row 20: (C1) x 20
Row 21: (C1) x 21
Row 22: C3, (C1) x 10, C3, (C1) x 10
Row 23: (C1) x 11, C3, (C1) x 9, C3, C1
Row 24: C1, (C3) x 2, (C1) x 8, (C3) x 2, (C1) x 11
Row 25: (C1) x 12, (C3) x 2, (C1) x 7, (C3) x 2, (C1) x 2
Row 26: (C1) x 2, (C3) x 3, (C1) x 6, (C3) x 3, (C1) x 12
Row 27: (C1) x 13, (C3) x 3, (C1) x 5, (C3) x 3, (C1) x 3
Row 28: (C1) x 3, (C3) x 4, (C1) x 4, (C3) x 4, (C1) x 13
Row 29: (C1) x 14, (C3) x 4, (C1) x 3, (C3) x 4, (C1) x 4
Row 30: (C1) x 4, (C3) x 5, (C1) x 2, (C3) x 5, (C1) x 14
Row 31: (C1) x 15, (C3) x 5, C1, (C3) x 5, (C1) x 5
Row 32: (C1) x 5, (C3) x 12, (C1) x 15
Row 33: (C1) x 16, (C3) x 11, (C1) x 6
Row 34: (C1) x 6, (C3) x 12, (C1) x 16
Row 35: (C1) x 17, (C3) x 11, (C1) x 7
Row 36: (C1) x 7, (C3) x 12, (C1) x 17
Row 37: (C1) x 18, (C3) x 11, (C1) x 8
Row 38: (C1) x 8, (C3) x 12, (C1) x 18
Row 39: (C1) x 19, (C3) x 11, (C1) x 9
Row 40: (C1) x 9, (C3) x 12, (C1) x 19
Row 41: (C1) x 20, (C3) x 11, (C1) x 10
Row 42: (C1) x 10, (C3) x 12, (C1) x 20
Row 43: (C1) x 21, (C3) x 11, (C1) x 11
Row 44: C1, (C2) x 11, (C3) x10, (C2) x 11, (C1) x 11
Row 45: (C1) x 11, (C2) x 12, (C3) x 9, (C2) x 12, C1
Row 46: (C1) x 2, (C2) x 11, C4, (C3) x 8, C5, (C2) x 11, (C1) x 12
Row 47: (C1) x 12, (C2) x 12, C5, (C3) x 7, C4, (C2) x 12, (C1) x 2
Row 48: (C1) x 3, (C2) x 11, (C4) x 2, (C3) x 6, (C5) x 2, (C2) x 11, (C1) x 13
Row 49: (C1) x 13, (C2) x 12, (C5) x 2, (C3) x 5, (C4) x 2, (C2) x 12, (C1) x 3
Row 50: (C1) x 4, (C2) x 11, (C4) x 3, (C3) x 4, (C5) x 3, (C2) x 11, (C1) x 14
Row 51: (C1) x 14, (C2) x 12, (C5) x 3, (C3) x 3, (C4) x 3, (C2) x 12, (C1) x 4
Row 52: (C1) x 5, (C2) x 11, (C4) x 4, (C3) x 2, (C5) x 4, (C2) x 11, (C1) x 15
Row 53: (C1) x 15, (C2) x 12, (C5) x 4, C3, (C4) x 4, (C2) x 12, (C1) x 5
Row 54: (C1) x 6, (C2) x 11, (C4) x 5, (C5) x 5, (C2) x 11, (C1) x 16
Row 55: (C1) x 16, (C2) x 12, (C5) x 5, (C4) x 4, (C2) x 12, (C1) x 6
Row 56: (C1) x 7, (C2) x 11, (C4) x 5, (C5) x 5, (C2) x 11, (C1) x 17
Row 57: (C1) x 17, (C2) x 12, (C5) x 5, (C4) x 4, (C2) x 12, (C1) x 7
Row 58: (C1) x 8, (C2) x 11, (C4) x 5, (C5) x 5, (C2) x 11, (C1) x 18
Row 59: (C1) x 18, (C2) x 12, (C5) x 5, (C4) x 4, (C2) x 12, (C1) x 8
Row 60: (C1) x 9, (C2) x 11, (C4) x 5, (C5) x 5, (C2) x 11, (C1) x 19
Row 61: (C1) x 19, (C2) x 12, (C5) x 5, (C4) x 4, (C2) x 12, (C1) x 9
Row 62: (C1) x 10, (C2) x 11, (C4) x 5, (C5) x 5, (C2) x 11, (C1) x 20
Row 63: (C1) x 20, (C2) x 12, (C5) x 5, (C4) x 4, (C2) x 12, (C1) x 10
Row 64: (C1) x 11, (C2) x 11, (C4) x 5, (C5) x 5, (C2) x 11, (C1) x 21
Row 65: (C1) x 10, (C3) x 11, (C2) x 12, (C5) x 5, (C4) x 4, (C2) x 12, (C3) x 11
Row 66: C1, (C3) x 11, (C2) x 11, (C4) x 5, (C5) x 5, (C2) x 11, (C3) x11, (C1) x 11
Corner
Row 67: (C1) x 11, (C3) x 11, (C4) x 11, (C5) x 5, (C4) x 4, (C5) x 11, (C3) x 11, (C1) x 2
Row 68: (C1) x 3, (C3) x 11, (C5) x 11, (C4) x 4, (C5) x 4, (C4) x 11, (C3) x 11, (C1) x 11
Row 69: (C1) x 11, (C3) x 11, (C4) x 11, (C5) x 4, (C4) x 3, (C5) x 11, (C3) x 11, (C1) x 4
Row 70: (C1) x 5, (C3) x 11, (C5) x 11, (C4) x 3, (C5) x 3, (C4) x 11, (C3) x 11, (C1) x 11
Row 71: (C1) x 11, (C3) x 11, (C4) x 11, (C5) x 3, (C4) x 2, (C5) x 11, (C3) x 11, (C1) x 6
Row 72: (C1) x 7, (C3) x 11, (C5) x 11, (C4) x 2, (C5) x 2, (C4) x 11, (C3) x 11, (C1) x 11
Row 73: (C1) x 11, (C3) x 11, (C4) x 11, (C5) x 2, C4, (C5) x 11, (C3) x 11, (C1) x 8
Row 74: (C1) x 9, (C3) x 11, (C5) x 11, C4, C5, (C4) x 11, (C3) x 11, (C1) x 11
Row 75: (C1) x 11, (C3) x 11, (C4) x 11, (C5) x 12, (C3) x 11, (C1) x 10
Row 76: (C1) x 11, (C3) x 11, (C5) x 22, (C3) x 11, (C1) x 11
Row 77: (C1) x 10, (C3) x 11, (C5) x 12, (C4) x 11, (C3) x 11, (C1) x 11
Row 78: (C1) x 11, (C3) x 11, (C4) x 11, C5, C4, (C5) x 11, (C3) x 11, (C1) x 9
Row 79: (C1) x 8, (C3) x 11, (C5) x 11, C4, (C5) x 2, (C4) x 11, (C3) x 11, (C1) x 11
Row 80: (C1) x 11, (C3) x 11, (C4) x 11, (C5) x 2, (C4) x 2, (C5) x 11, (C3) x 11, (C1) x 7
Row 81: (C1) x 6, (C3) x 11, (C5) x 11, (C4) x 2, (C5) x 3, (C4) x 11, (C3) x 11, (C1) x 11
Row 82: (C1) x 11, (C3) x 11, (C4) x 11, (C5) x 3, (C4) x 3, (C5) x 11, (C3) x 11, (C1) x 5
Row 83: (C1) x 4, (C3) x 11, (C5) x 11, (C4) x 3, (C5) x 4, (C4) x 11, (C3) x 11, (C1) x 11
Row 84: (C1) x 11, (C3) x 11, (C4) x 11, (C5) x 4, (C4) x 4, (C5) x 11, (C3) x 11, (C1) x 3
Row 85: (C1) x 2, (C3) x 11, (C5) x 11, (C4) x 4, (C5) x 5, (C4) x 11, (C3) x 11, (C1) x 11
Row 86: (C1) x 11, (C3) x 11, (C2) x 11, (C5) x 5, (C4) x 5, (C2) x 11, (C3) x 11, C1
Corner
Row 87: (C3) x 11, (C2) x 12, (C4) x 4, (C5) x 5, (C2) x 12, (C3) x 11, (C1) x 10
Row 88: (C1) x 21, (C2) x 11, (C5) x 5, (C4) x 5, (C2) x 11, (C1) x 11
Row 89: (C1) x 10, (C2) x 12, (C4) x 4, (C5) x 5, (C2) x 12, (C1) x 20
Row 90: (C1) x 20, (C2) x 11, (C5) x 5, (C4) x 5, (C2) x 11, (C1) x 10
Row 91: (C1) x 9, (C2) x 12, (C4) x 4, (C5) x 5, (C2) x 12, (C1) x 19
Row 92: (C1) x 19, (C2) x 11, (C5) x 5, (C4) x 5, (C2) x 11, (C1) x 9
Row 93: (C1) x 8, (C2) x 12, (C4) x 4, (C5) x 5, (C2)
x 12, (C1) x 18
Row 94: (C1) x 18, (C2) x 11, (C5) x 5, (C4) x 5,
(C2) x 11, (C1) x 8
Row 95: (C1) x 7, (C2) x 12, (C4) x 4, (C5) x 5, (C2) x 12, (C1) x 17
Row 96: (C1) x 17, (C2) x 11, (C5) x 5, (C4) x 5, (C2) x 11, (C1) x 7
Row 97: (C1) x 6, (C2) x 12, (C4) x 4, (C5) x 5, (C2) x 12, (C1) x 16
Row 98: (C1) x 16, (C2) x 11, (C5) x 5, (C4) x 5, (C2) x 11, (C1) x 6
Row 99: (C1) x 5, (C2) x 12, (C4) x 4, C3, (C5) x 4, (C2) x 12, (C1) x 15
Row 100: (C1) x 15, (C2) x 11, (C5) x 4, (C3) x 2, (C4) x 4, (C2) x 11, (C1) x 5
Row 101: (C1) x 4, (C2) x 12, (C4) x 3, (C3) x 3, (C5) x 3, (C2) x 12, (C1) x 14
Row 102: (C1) x 14, (C2) x 11, (C5) x 3, (C3) x 4, (C4) x 3, (C2) x 11, (C1) x 4
Row 103: (C1) x 3, (C2) x 12, (C4) x 2, (C3) x 5, (C5) x 2, (C2) x 12, (C1) x 13
Row 104: (C1) x 13, (C2) x 11, (C5) x 2, (C3) x 6, (C4) x 2, (C2) x 11, (C1) x 3
Row 105: (C1) x 2, (C2) x 12, C4, (C3) x 7, C5, (C2) x 12, (C1) x 12
Row 106: (C1) x 12, (C2) x 11, C5, (C3) x 8, C4, (C2) x 11, (C1) x 2
Row 107: C1, (C2) x 12, (C3) x 9, (C2) x 12, (C1) x 11
Row 108: (C1) x 11, (C2) x 11, (C3) x 10, (C2) x 11, C1
Row 109: (C1) x 11, (C3) x 11, (C1) x 21
Row 110: (C1) x 20, (C3) x 12, (C1) x 10
Row 111: (C1) x 10, (C3) x 11, (C1) x 20
Row 112: (C1) x 19, (C3) x 12, (C1) x 9
Row 113: (C1) x 9, (C3) x 11, (C1) x 19
Row 114: (C1) x 18, (C3) x 12, (C1) x 8
Row 115: (C1) x 8, (C3) x 11, (C1) x 18
Row 116: (C1) x 17, (C3) x 12, (C1) x 7
Row 117: (C1) x 7, (C3) x 11, (C1) x 17
Row 118: (C1) x 16, (C3) x 12, (C1) x 6
Row 119: (C1) x 6, (C3) x 11, (C1) x 16
Row 120: (C1) x 15, (C3) x 12, (C1) x 5
Row 121: (C1) x 5, (C3) x 5, C1, (C3) x 5, (C1) x 15
Row 122: (C1) x 14, (C3) x 5, (C1) x 2, (C3) x 5, (C1) x 4
Row 123: (C1) x 4, (C3) x 4, (C1) x 3, (C3) x 4, (C1) x 14
Row 124: (C1) x 13, (C3) x 4, (C1) x 4, (C3) x 4, (C1) x 3
Row 125: (C1) x 3, (C3) x 3, (C1) x 5, (C3) x 3, (C1) x 13
Row 126: (C1) x 12, (C3) x 3, (C1) x 6, (C3) x 3, (C1) x 2
Row 127: (C1) x 2, (C3) x 2, (C1) x 7, (C3) x 2, (C1) x 12
Row 128: (C1) x 11, (C3) x 2, (C1) x 8, (C3) x 2, C1
Row 129: C1, C3, (C1) x 9, C3, (C1) x 11
Row 130: (C1) x 10, C3, (C1) x 10, C3
Row 131: (C1) x 21
Row 132: (C1) x 20
Row 133: (C1) x 19
Row 134: (C1) x 18
Row 135: (C1) x 17
Row 136: (C1) x 16
Row 137: (C1) x 15
Row 138: (C1) x 14
Row 139: (C1) x 13
Row 140: (C1) x 12
Row 141: (C1) x 11
Row 142: (C1) x 10
Row 143: (C1) x 9
Row 144: (C1) x 8
Row 145: (C1) x 7
Row 146: (C1) x 6
Row 147: (C1) x 5
Row 148: (C1) x 4
Row 149: (C1) x 3
Row 150: (C1) x 2
Row 151: C1