Are you intimidated by crochet cables? You know what, for the longest time, I was too! All those post stitches, crosses, and complicated instructions made me very hesitant to try them.
However – I love the look of cables and wanted to incorporate them into my designs. I began practicing and got more comfortable with the actual construction and design of cable. One thing kept bugging me though – pesky gaps around my post stitches. No matter how tight I stitched, or how fluffy my yarn was, those gaps were making my work look messy. So, when I started designing my Maribel Sweater, I knew I needed to find a better way. ​
​This post may contain affiliate links.
The Maribel Sweater started from a desire to make a simple, cabled raglan sweater that any crocheter could feel comfortable making. Using lovely hand dyed yarn from Montana Crochet, I wanted to feature a easy cable pattern that would allow the yarn to really shine. I broke out my trusty notebook and pencil, and set to sketching out a bunch of cable patterns. I finally settled on one, and started swatching.
Again, those darn holes were like a thorn in my side. I knew with a little research, surely I would find a solution. I did some googling, and came across several forums where crocheters were lamenting the dreaded gaps that cables (and any post stitches) can leave in a piece.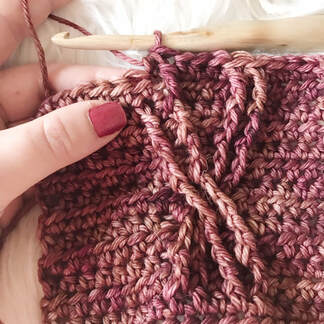 After a lot of experimenting, research, trial, and error, I came up with a method that works well for me.
​Enter: the ghost stitch! The ghost stitch is as simple as working a stitch on the back ground stitch along with your post stitch. Besides putting an end to gaps, it also keeps the wrong side of your piece looking nice and neat. For garments, this is especially important for comfort (at least to me!).
​Please note, using this method you may still experience some small gaps on cable crosses. I have yet to find a way to perfect that, but I'm always searching!
​
​Say for example your cable has a six stitch count, as the one below. In this case, the cable portion is two fptc, followed by two hdc, and then two more fptc. When I work my fptc, I stop working just before my last yo and pull through (when I have two loops left on my hook).
​Instead of finishing the stitch, I treat this as working two stitches together, by yo, inserting my hook into the background stitch and pulling up a loop, then yo, and pulling through all loops. Pretty easy, right? No matter what your cables are doing – crossing, getting wider, etc, you always work from right to left on the background stitches. See the video below for an example of this method in action!
​Have you tried ghost stitches before? Were you happy with the results?