In ancient Roman mythology, Salacia [sa.laː.kja] was the female divinity of the sea, worshipped as the goddess of salt water who presided over the depths of the ocean. This serves as the inspiration for the Salacia Beanie. The gentle cables have a flowy and water-like quality to them, don't you think?
For this design I used Lion Brand Scarfie. This bulky weight yarn has really gorgeous color transitions and is budget friendly. Win win!
For the longest time, knitting cables really intimidated me! However, once I decided to sit down and actually give them a go – I was pleasantly surprised! If this is your first time knitting cables, my best advice is to go slow and be patient with yourself. It is a learning process for sure – but by the end of this beanie you'll be flying through cables!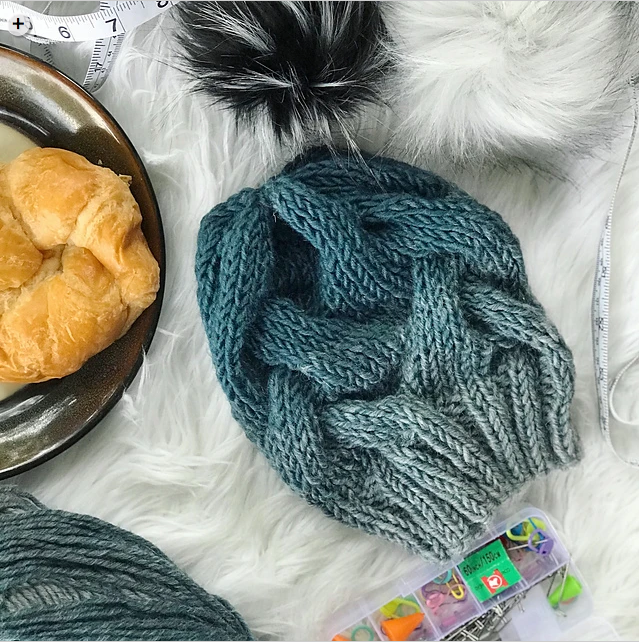 Details
Method: Knitting
Skill Level: Intermediate
Circular Needles: 6.5 mm (16") and 8.0 mm (16")
Other: Cable Needle, Stitch marker, Yarn needle
Yarn: Lion Brand Scarfieother category 5 bulky yarn, approximately 100 yards
Gauge: 4 stitches = 1 inch in Stockinette
Abbreviations
st stitch
k knit
p purl
kfb knit front & back increase
k2tog knit two together
5/5 LC 10 stitch left cable
5/5 RC 10 stitch right cable
pm place marker
Important info
This pattern is written for two sizes –child and adult. Instructions are written with the child size first, and the adult in parentheses (where applicable). Child sized should fit ages 8 and below, and have a slightly slouchy fit. Older children should be able to comfortably wear the adult size.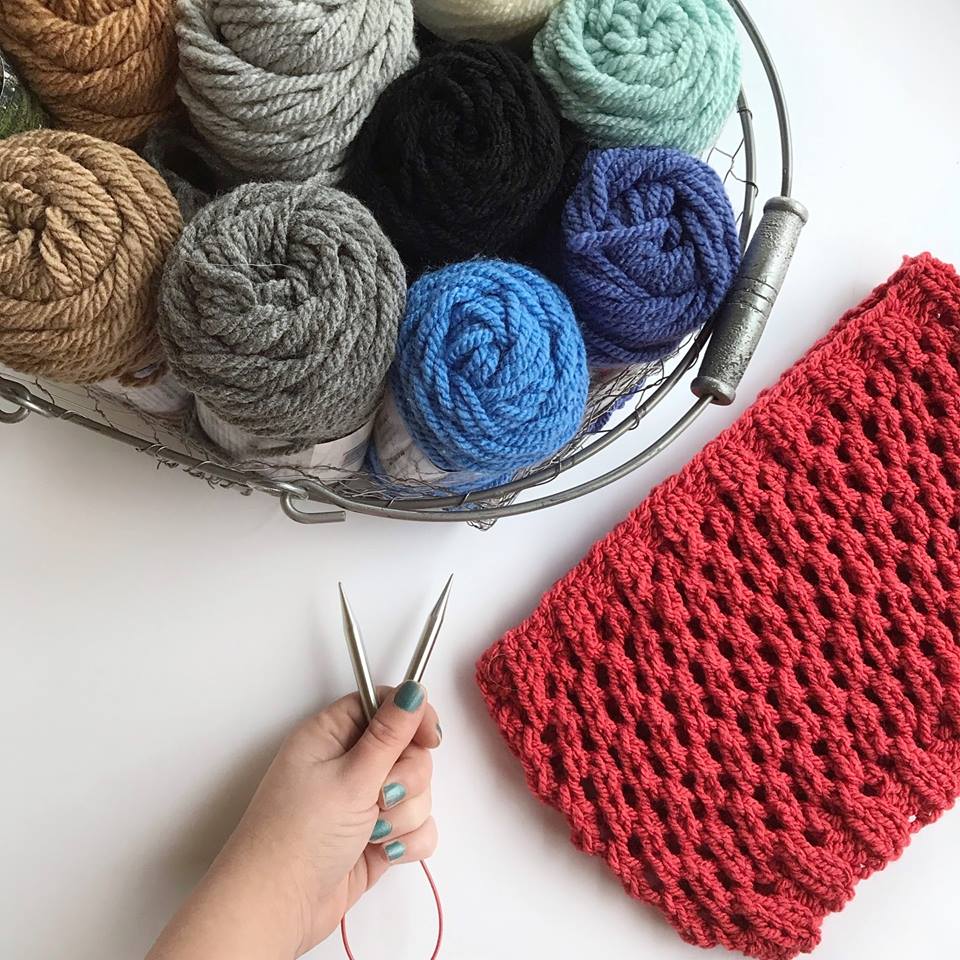 Like this free pattern?
You may also enjoy the Jiffy Mesh Cowl – another free knitting pattern that uses bulky weight yarn.
The Pattern
With smaller needles, cast on 56 (72). Join for working in the round, being careful not to twist your sts. PM.

BRIM: K2, P2. Repeat from * to * to the end of round.
Repeat this round 8 (10) times
BODY SET UP: Switch to larger needles.
CHILD: K13, KFB. Repeat from * to * to the end of round. (60)
ADULT: K23, KFB. Repeat from * to * to the end of round. (75)

BODY:
ROUND 1: K around.
ROUND 2: K around.
ROUND 3: K around.
ROUND 4: K around.
ROUND 5: 5/5 LC, k5. Repeat from * to * to the end of round.
ROUND 6: K around.
ROUND 7: K around.
ROUND 8: K around.
ROUND 9: K around.
ROUND 10: K around.
ROUND 11: K5, 5/5 RC. Repeat from * to * to the end of round.
ROUND 12: K around.
Repeat ROUNDs 1 –12 1 (2) times.

CROWN SHAPING:
ROUND 1: K around
ROUND 2: K around
ROUND 3: K2tog, around. For adult size, knit your last ston it's own. 30 (38).
ROUND 4: K2tog, around. 15 (19).

FINISHING:
After your last round, cut your yarn leaving a tail long enough to sew the hole shut. Keeping your work on your needles, thread a yarn needle with the long tail. Guide the yarn needle through each open stitch at the top of your beanie, then remove your knitting needles. Pull the thread taught on the inside of the beanie, and sew closed.
Weave in all ends, add a pompom (if you like) and you're finished! I can't wait to see what you create with this pattern –feel free to tag me on Instagram @hookedhazel and use the hashtag #salaciabeanie. I'd love to feature your work!
Before you go…
You are welcome to sell finished items created with this pattern. I only ask that you credit Hooked Hazel with the original design. Do not use my photos to sell finished products. Do not copy, alter, or distribute this pattern.