Whew – it's been a while since I have published a knitting pattern! Crochet may be my go to yarn craft, but I do love to knit now and then. My favorite stitch? Garter! It's so relaxing to work rows and rows of garter stitch. The Cecily Shawl uses garter stitch to create a squishy and plump wrap that even a beginner can make. If you live in a cold climate like I do, the Cecily Shawl is sure to be wardrobe staple for the rest of winter. The nice thing about this garter stitch shawl is that it works up fast – I'm not a quick knitter by any means but even I was able to finish this in just a couple days.
The Yarn
For this shawl I used one of my all time favorite yarns – Lion Brand Wool Ease Thick & Quick. The colorway I chose is called Taupe. I believe that it has unfortunately been discontinued, but there are plenty of other gorgeous colorways available. If you're looking for a neutral, I suggest Fisherman or Barley (a wonderful tweed).
The Stitch
As I mentioned above, garter stitch is one of my all time favorite stitches! It's the first thing most beginners learn, which makes the Cecily Shawl perfect for knitters of any skill level. We'll combine this stitch with some simple yarn overs near the edges to create visual interest. For such a simple to work pattern, this one has some stunning details that set it apart. A garter stitch shawl is a wonderful project to snuggle up with while bingeing Netflix.
The Pattern
The full free pattern is available below, or the ad free PDF is available on Ravelry.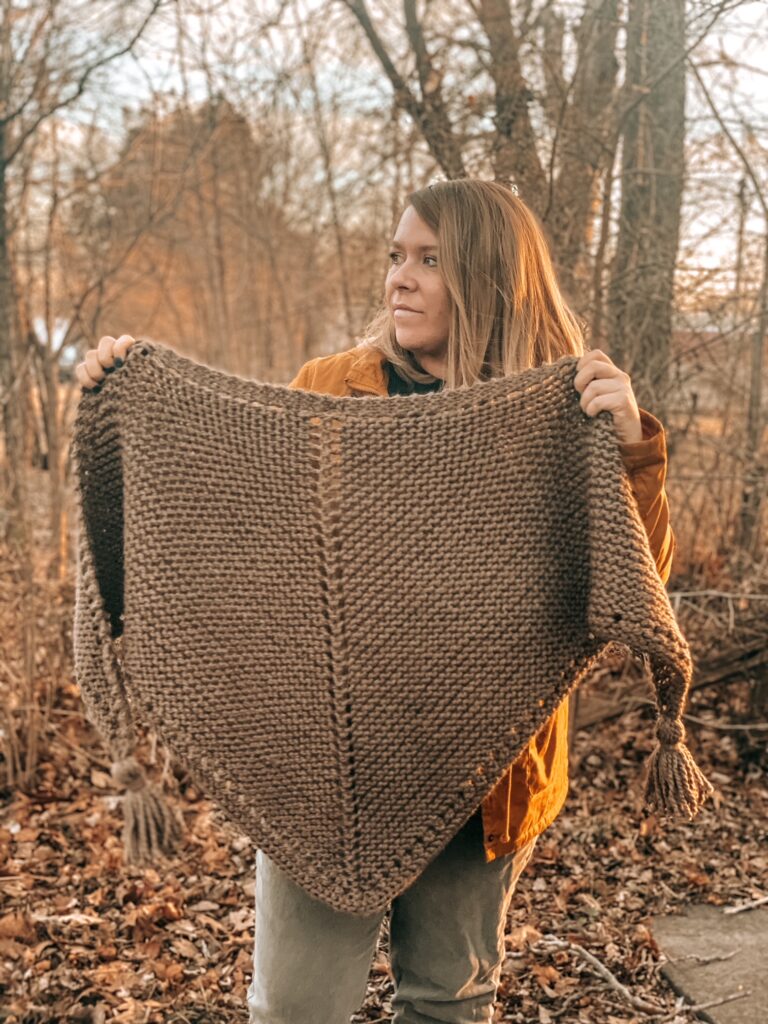 Materials Needed
Lion Brand Wool Ease Thick & Quick – 4 Balls (106 yds each) or approximately 400 yards of a similar yarn.
9 mm circular knitting needles, (I used a 55" cord), or size needed to get gauge.
Stitch markers (3)
Gauge
9 sts x 13 rows = 4″
Size
62" across the top edge, by 30" deep at the center point.
Abbreviations
k knit
YO yarn over
2tog 2 sts together (decrease)
tbl through back look
pm place marker
sm slip marker
st(s)  stitch(es)
Pattern Notes:
Pattern is one size, although you can easily increase this by adding row repeats before the edge rows.
Each row 4 repeat adds 4 sts to your shawl.
On k rows, sm as you work across the row.
Garter Tab Cast On:
Cast on 3 sts.
Rows 1 – 4: K across (3 sts)
Row 5: Pick up and k 3 sts along row edges, pick up and knit 3 sts along the cast-on edge. (9 sts)
Body of Shawl:
Row 1: K3, PM, K2, PM, K1, PM, K3 (9 sts).
Row 2: K3, SM, YO, K1, YO, SM, K1, YO, K1, YO, SM, K3. (13 sts)
Row 3: K across. (13 sts).
Row 4: K3, SM, YO, K to marker, YO, SM, K1, YO, K to marker, YO, SM, K3. (17 sts)
Row 5: K across. (17 sts)
Rows 6 – 77: Repeat rows 4 – 5. (161 sts)
Row 78: K3, SM, *YO, K2tog*, repeat from * to * to marker, YO, SM, K1, YO, *K2tog, YO* repeat from * to * to marker, SM, K3. (165 sts)
Row 79: K across. (165 sts)
Row 80: K3, SM, YO, K to marker, YO, SM, K1, YO, K to marker, YO, SM, K3. (169 sts)
Bind off:
K1, *slip 1 st back to the left needle, K2tog tbl; rep from * until 1 st remains. Cut yarn and pull through last stitch to secure.
Tassels and Finishing:
Cut 40 pieces of yarn, each approximately 15". Divide into two bundles of 20 pieces of yarn, and wrap to make tassels. Trim to desired length. Sew one to each end of your shawl. Block using your preferred method. Sample was pinned and steam blocked. Weave in all ends.
I hope if you make this shawl, you will share it on social media! Tag me (@hookedhazel) in your WIP photos and use the hashtag #cecilyshawl. I love sharing your makes!