Yup – I'm still on a shawl kick! I feel like shawls are perfect summer makes. They're portable, light, and use less heavy yarns. I also enjoy experimenting with fun stitch patterns and shawls are perfect for that!
Most of you probably know that Furls crochet hooks are my go to choice for hooks. They often show up in my Instagram posts because I use them on about every project I make. My favorites are the Odyssey and Streamline Swirl lines. I have them in just about every size. They make crocheting so much easier! I used to really cramp up a lot in my hook holding hand, but ever since making the switch to Furls, I can crochet for hours on end with no discomfort.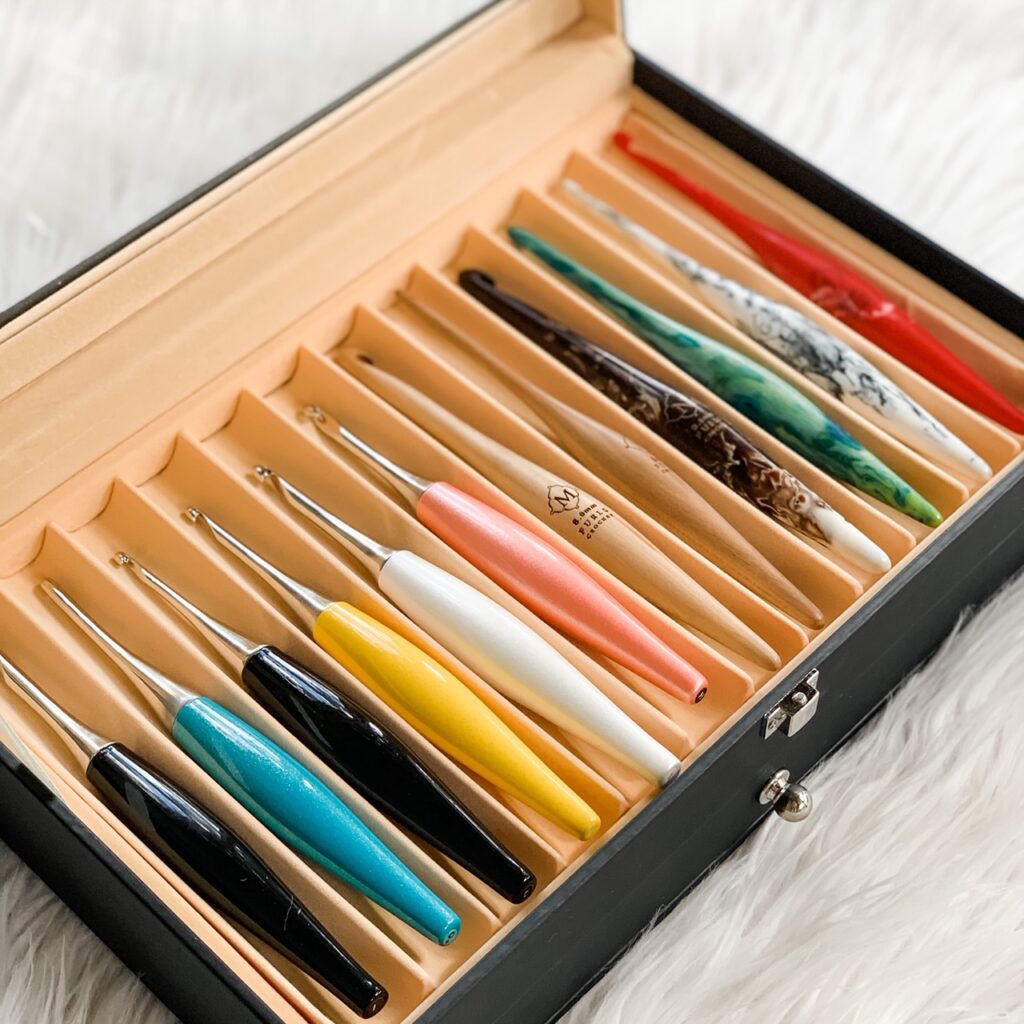 Comfort and Style
Furls hooks are gorgeous – that much is a given. But did you know they are also specially designed to be ergonomic and provide comfort while crocheting? You can check out their selection of hooks here.
What some of you might not know is that Furls also makes a line of yarn! It's a Z-Twist yarn, which means it's twisted in the opposite direction than most commercially available yarns. It's developed especially for crocheters and the way we grab yarn with a crochet hook. The Whims Merino yarn comes in two weights – DK and Worsted – and tons of fun colors! The yarn is a merino and nylon blend – giving it amazing stitch definition and drape. When I was swatching up the Frankie Wrap I was really blown away by how crisp my stitches looked even prior to blocking!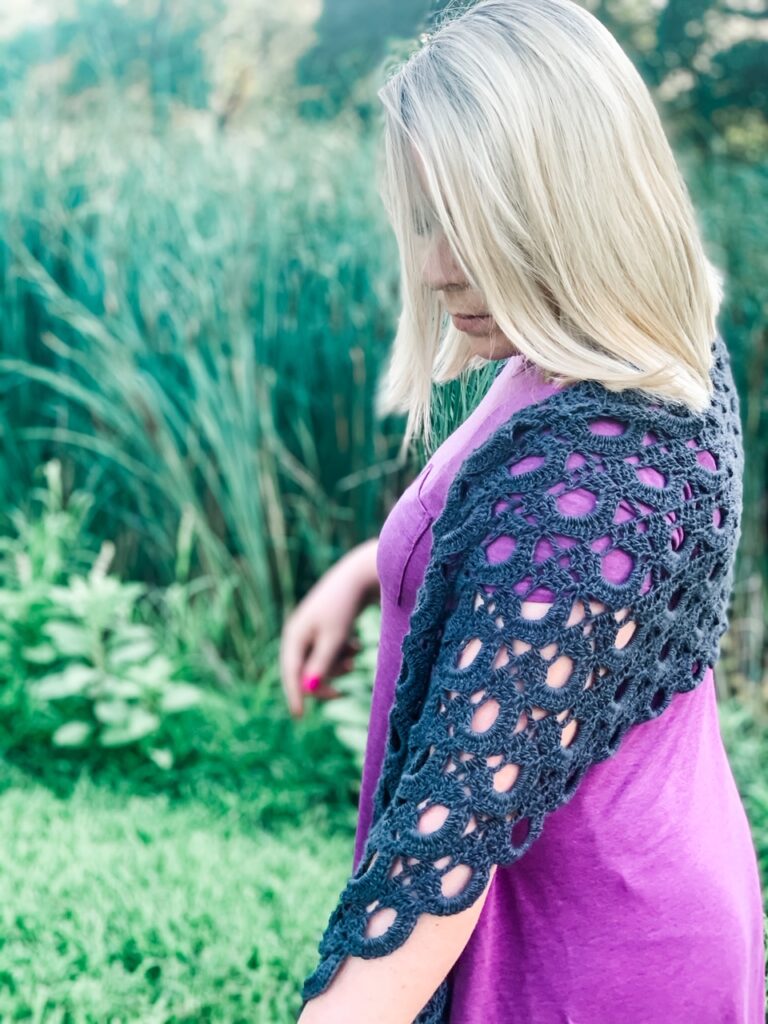 For the Frankie Wrap I chose to use the Whims Merino in DK, the colorway is Charcoal. I love this classic grey because I can pair it with anything in my wardrobe. It really pops, right? This pattern is part of the Furls Blog Hop 2020. You'll definitely want to check it out! Every Sunday in 2020 Furls will link to a new free pattern using their Whims Merino yarn. There are all kind of patterns already – from accessories to garments to home decor – and the year is only half over! Definitely bookmark that page for easy access!
The Frankie Wrap has an intricate looking pattern – but you'll be shocked how easy it is to memorize the four row repeat! It makes for a great Netflixing project!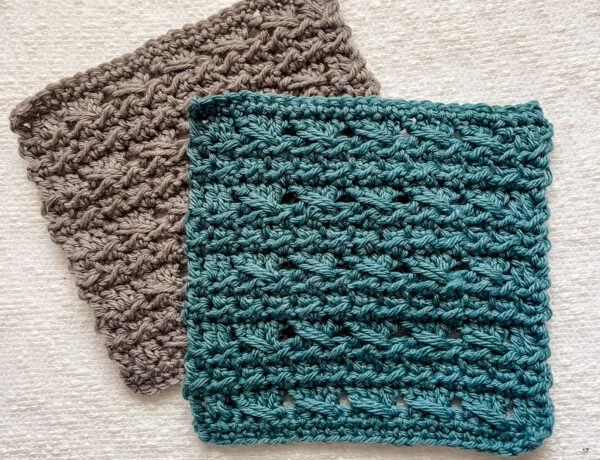 Have you been enjoying the Stitch Together Official 2022 Stitchathon? I certainly have! It's…
October 5, 2022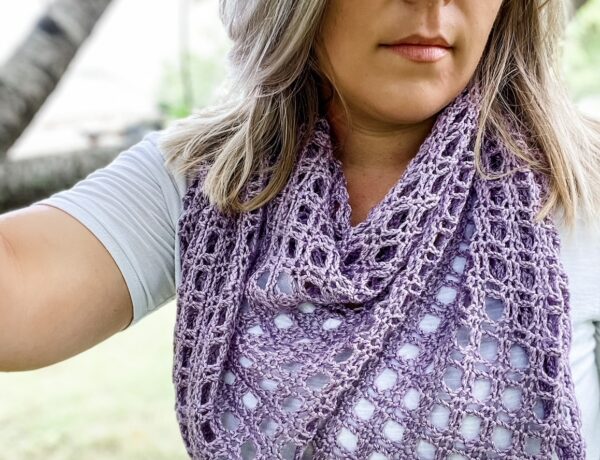 Wow – it's been a minute since I posted a free pattern! It has…
July 6, 2022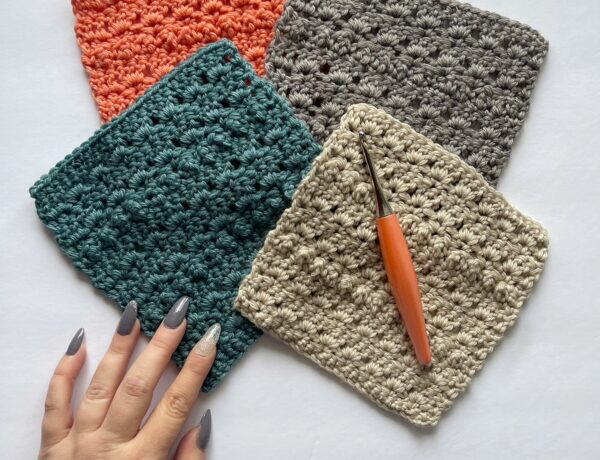 When I need a comfort project, I always gravitate towards making a blanket. Blankets…
May 11, 2022
THE PATTERN
Skill Level Intermediate
Hook G/4.0 mm crochet hook
Yarn Furls Whims Merino DK, fine superwash merino + nylon, 50/50, 100g (3.5oz), 196yds(180m), 4 balls
Other Darning needle, scissors, blocking mat and pins
Gauge   16 st x 8 rows, blocked = 4" in dc
Size 62" x 15", blocked, excluding fringe.
Abbreviations
st(s) stitch(es)
ch chain
sc single crochet
dc double crochet
tc treble crochet
sk skip
Notes
Ch 1 at the beginning of a row does not count as a stitch.
Ch 3 at the beginning of a row counts as a dc
Ch 6 at the beginning of a row counts as a tc + ch 2.
You can make your shawl wider by adding additional repeats, this will require additional yardage.
Stitch counts are given in < > where a change occurs.
Ch 267.
Row 1: Dc in 5th ch from hook, dc 2, ch 2, sk 2, *dc 3, ch 1, sk 1, dc 3, ch 2, sk 2*, repeat from * to * across until 4 sts remain, dc 4, turn. <176 dc>
Row 2: Ch 3, *dc 3, ch 7, sk ch sp, dc 3, ch 1, sk ch sp,* repeat from * to* across, ending with dc 3, ch 7, sk ch sp, dc 4, turn. <176 sc>
Row 3: Ch 1, *sc 1, *12dc in ch 7 sp, sc in ch 1 sp*, repeat from * to * across, ending with a sc in final dc, turn. <348 dc, 29 "shells">
Row 4: Ch 6, sk 4, *sc 4, ch 2, sk 4, tc in sc of previous row, sk 4, ch 2*, repeat from * to * across, ending with a tc in the final sc of previous row. <116 sc>
Row 5: Ch 3, *2dc in ch 2 sp, dc 1, ch 2, sk 2, dc 1, 2dc in ch sp, ch 1, sk 1*, repeat from * to * across, ending with a dc in the 4th ch of your ch 6 from the previous row. <176 dc>
Rows 6 – 25: Repeat rows 2 – 5
Row 26: Repeat row 2.
Rows 27: Repeat row 3.
Cut yarn and weave in all ends.
Fringe:
Cut 120 pieces of yarn, 11″ long each. Separate into 24 groups of 5 pieces. On each short end of your shawl, attach 12 bundles of fringe, evenly spaced along the edge. Double over each bundle of 5 pieces and use your crochet hook to secure. I placed mine at the ends of the row 2 and 4 repeats, however you may choose any placement you like.
Block your shawl if necessary.