I think we're officially entering cozy season. The air is crisp and the leaves are turning – I love everything about this time of year! Of course the cooler weather means the time is right to start dressing in layers and pulling all of your crochet accessories out of storage.
For this design I combined a gentle chevron pattern with pops of puff stitches! The texture is a lot of fun and is super cozy.
The Yarn
The Micah Cowl is a really great transitional crochet piece. It will cozy up any fall outfit and add a punch of texture (and color) to your wardrobe. For this design I worked with the new Kindred yarn from WeCrochet. This DK weight yarn is 68% Baby Alpaca and 32% Peruvian Pima Cotton – the white cotton stands are actually twisted with the alpaca to give it a very cool marled look. It's nice and lofty, and blooms gorgeously when worked up. It was the perfect choice for the Micah Cowl!
I used three colorways – Raspberry Cordial, Teacake, and Wintergreen. If you want to try all the colors, they even offer a value pack with one skein of each colorway. That would be enough to make three Micah Cowls with a couple skeins left over!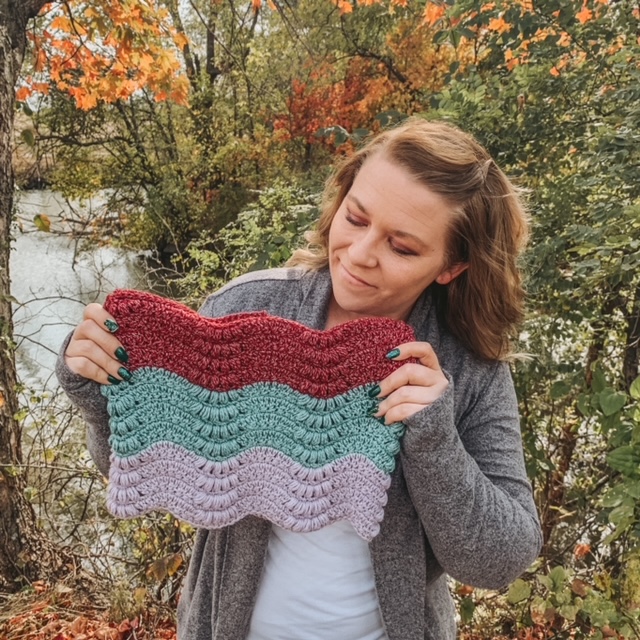 The free pattern is below, if you like it I hope you will consider purchasing my low cost PDF. These sales help support me to keep providing you with free crochet content.
Pattern Details
Method Crochet
Skill Level Intermediate
Hooks H/5 mm crochet hook
Yarn WeCrochet Kindred, or comparable DK weight yarn, 310 yards
Other Darning needle, blocking mat and pins
Gauge 16 dc x 8 rows
Size 9" tall x 26" circumference
Abbreviations
ch chain
sc single crochet
dc double crochet
fsc foundation single crochet
2tog work 2 sts together
ps puff stitch
sk skip
st(s) stitch(es)
rs right side
ws wrong side
* * repeat instructions between asterisks as many times as directed
Notes
•Pattern is worked in joined & turned rounds.
•Pattern sample uses three colors of yarn, may also be worked with one or two colors. Instructions are given for a three color cowl. For a two color cowl, change colors at the beginning of round 13.
•Ch 1 at the beginning of a round does not count as a st.
•Ch 2 at the beginning of a round counts as ½ of a dc2tog. •Stitch counts are indicated in < > where there is a change.
•Instructions written in parenthesis ( ) indicate all the sts are worked in the same st, ex (ps, ch 1), work the entire combination in one st.
Special Stitches:
Puff Stitch: *YO, insert hook into indicated st and pull up a loop*, repeat from * to* 3 more times, YO, pull through all 9 loops on hook.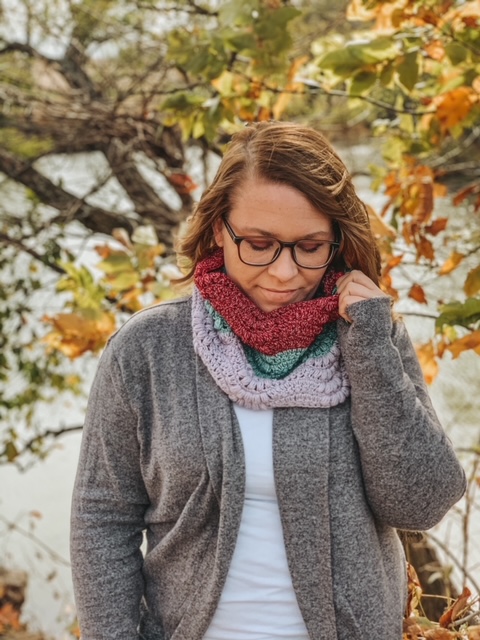 The Pattern
With color 1, fsc 102 and, being careful not to twist, join to first ch with a slst to form a circle, turn.
Round 1 (ws): Ch 2, sk 1 st, dc in next, dc2tog 2 times, *ch 1, (ps, ch 1) 5 times, dc2tog 6 times*, repeat from * to * until 11 sts remain, ch 1, (ps, ch 1) 5 times, dc2tog 3 times, join with slst to first st, turn. <30 ps, 36 ch, 36 dc2tog>
Round 2 (rs): Ch 1, sc in each st and ch sp around, join with slst to first st, turn. <102 sc>
Rounds 3 – 8: Repeat rounds 1 – 2.
Join color 2.
Rounds 9 – 16: Repeat rounds 1 – 2.
Join color 3.
Rounds 17 – 24: Repeat rounds 1 – 2.
Finishing:
Weave in all ends on the ws of your cowl. Lightly block if desired.
Before you go…
You are welcome to sell finished items created with this pattern. I only ask that you credit Hooked Hazel with the original design. Do not use my photos to sell finished products. Do not copy, alter, or distribute this pattern.
I would appreciate your review on Etsy, Ravelry, or Instagram. Tag me in photos, and I may feature your project! Use the hashtags #hookedhazel and #micahcowl to possibly be featured!